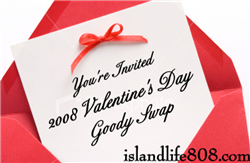 I love Valentine's Day. Everything is so pink and red and flowery. I love candy and roses and romantic songs.
However, ever since having kids, DH and my views of this love day has changed. Candlelight dinners are replaced by kid-friendly restaurants with paper napkins and crayons. Expensive gifts have stepped aside for homemade cards and pictures. And even though I miss the formal celebrations, I wouldn't change it for the world.
But that doesn't mean I'm ready to give up the sweet treats that line the store shelves. And since I feel a little silly buying them for myself, I thought I'd organize another Valentine's Day Goody Swap. Last year's event was so much fun!
Here's how it works:
If you'd like to participate, just leave a comment below letting me know that you'd like to participate and whether you prefer a U.S. partner or are open to anyone world-wide. Then add your link to the Mr. Linky. You have until January 31st to sign-up.
If you do sign-up, please make sure that you're able to commit to participating. It's kind of a bummer to send out a package and not receive one in return.
On February 1st, I'll be announcing your swap partners so make sure I have your email address.
It is your responsibility to contact your partner and exchange mailing addresses. Please take some time to get to know each other. This is a great opportunity to make a new blogging friend!
In order to try and get to know each other better, I have posted a questionnaire in hopes we can learn a little more about you. You can post your answers on your blog or in comments.
Try to send out your packages asap to ensure that your partner gets theirs on/before Valentines Day.
You should try to spend somewhere between $8 – $10, not including shipping charges.
Once you've received your goodies, don't forget to post pictures so we can all see what you got!
Have Fun!
Questionnaire:
What is your idea of a romantic Valentine's Day?

A nice quiet dinner at any restaurant that doesn't have a keiki (child) menu.

In reality, what is your Valentine's Day really like?

Usually it's take-out from Big City Diner. They have the best Guava Baby Back Ribs!

If you could have a lifetime supply of your favorite sweet indulgence, what would it be?

Definitely Reese's Peanut Butter Cups. Those mini ones are dangerous because it's so easy to just pop them in your mouth. I think I once ate half a bag in one sitting!

Is there any sweet treat you absolutely do not like?

Black liquorice, Red Hots, Conversation Hearts

If you fell into a pool of chocolate, how would you get out?

Well, since I can't swim I would probably be in danger. But it's a great way to go!
Any questions? Please feel free to contact me. You may also use this banner or the button located in the sidebar.

Owner of An Island Life. A flight attendant and mother to 3 beautiful girls. . . living a blessed life in Hawaii.