Every year, we put up our Christmas tree the day after Thanksgiving. It's a holiday tradition. While most people get up before it's even light outside to stand in long lines on the biggest shopping day of the year, we sleep in. After breakfast, DH puts up our tree and we spend the morning decorating it and the house.
Before the girls, our tree was always color coordinated and the ornaments symmetrically placed. Now, it's just a mismatched of princesses, Disney characters, candy garlands, snowmen, and traditional ornaments. Nothing matches and I love it that way. Each year I take Girlie Girl to the store to pick out one brand new ornament to add to the tree. I put her name and the year on it so that one day she can look back and see what she chose.
This year, in addition to Girlie Girl & Baby Bug's addition, I'd also like to add an ornament from one of my blogging friends. That's why I've decided to host a Christmas Ornament Exchange and I'm hoping you'll all join me.
Here's how it works:
Ornaments should cost between $8 – $10 + shipping.
This exchange will be open to anyone world-wide. However, if you do not want an international partner, please let me know.
If you'd like to participate, please leave your link below AND leave a comment. The reason for doing both is that I've noticed that some people will accidentally sign Mr.Linky with no intention of participating. This will help to ensure that I get an accurate count of who's on board.
If you don't have a blog, just sign the Mr.Linky with your name and leave your email address in comments.
The sign-up will continue until Thanksgiving and partners will be announced the day after.
If you have any questions, please let me know.
Does your family have any Holiday decorating traditions?
BTW, here are some graphics you can use if you choose to.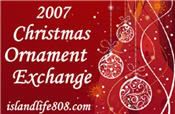 Owner of An Island Life. A flight attendant and mother to 3 beautiful girls. . . living a blessed life in Hawaii.