Safe and Sound in Cincinnati
After 11 hours and 1 aircraft change in Utah, I finally arrived in Cincinnati for the Pampers Mommy Bloggers Event.
I have to say, it's pretty interesting to travel on a different airline carrier. The on-board service, meals, entertainment, and seat configuration were all an experience. And let me tell you, when Delta says you can only bring on one carry-on and one personal item, they mean it. I actually got stopped at the boarding door because I also had my laptop bag with me. I ended up having to shove my laptop bag into my rollerboard and couldn't even zipper it all the way up! But hey, at least I was able to consolidate it and board the flight. Makes no sense since as soon as I got on board, I took the laptop bag out again.
Everything went really well and like they promised, Andrea & Jennifer from PainePR were waiting at baggage claim with signs that said "Welcome Mommy Bloggers!" They escorted us to our cars and we were wisked away to the Westin Cincinnati. It was actually pretty cool to be chauffered everywhere in these black luxury passenger vans. Let me tell you, whenever our little convoy pulled up the curb, all heads turned. We felt like movie stars! LOL!
When we checked into our rooms, PainePR had thoughtfully left a gift basket of some cool beauty products in each room to make our stay more comfortable. It was then a quick shower and change of clothes and we were off again to visit the Procter & Gamble Headquarters, specifically the Archive Room.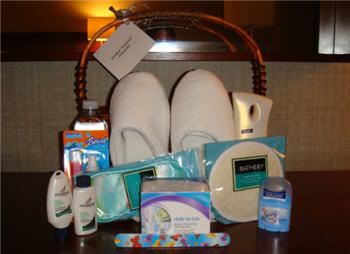 This room held the most amazing samples of products from the history of Procter & Gamble including Max Factor, Charmin, Pampers, Gillette, Tide, and many more. And did you know that Procter & Gamble has their own Emmy Award for Lifetime Achievement? We actually got to see an Emmy Award Statue in person! So cool!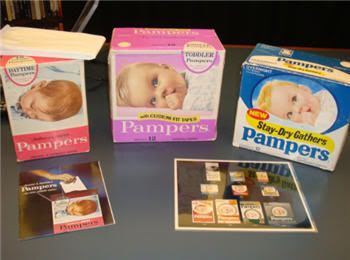 However, the best part is when they explained how Max Factor used to not only do make-up but also wigs for actors and actresses. They explained how the whole process worked and even showed us real locks of hair from John Wayne!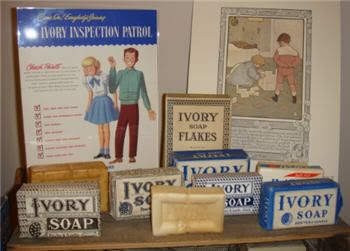 Then it was off to dinner at the Brio Tuscan Grille. It was a great evening getting to know the other fabulous Mommy Bloggers as well as the people from P&G. I wasn't sure what to expect from these executives but they were so down-to-earth and easy to talk to. By the end of the night, we all felt like we've known each other forever. What a great group of people!
Anyway, tomorrow is a big day at the Pampers BabyCare Center to discuss Pampers and their charitable events including Unicef's Vaccination Program. I'll keep you posted!