For the longest time, I've been looking for a photo pendant that didn't look like it was made back in the 50s. What can I say? I like a little more modern look. Especially if it's going to be displayed for the world to see.
So, when I was introduced to The Fine Art of Family, I was really impressed. In fact, there were so many pieces that I absolutely loved that I wouldn't even know which one to get if someone offered to get one for me. *hint hint*
Here are some of my favorites: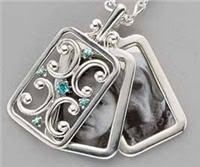 In fact, not only do they carry these beautiful lockets, they also have bracelets, frames, key rings, and other ways to display your precious photos.
What great gifts these would make for that special woman in your life . . . believe me, she'll love it!
To view more from The Fine Art of Family, check out their ad in my sidebar.

Owner of An Island Life and Family Review Network. Wife, mother, and flight attendant . . . living a blessed life in Hawaii.