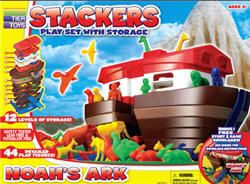 Wow, talk about keeping the girls occupied! Our Stackers' Noah's Ark by Tier Toys provided my daughters with hours of playtime and me with some precious quiet time.
PRODUCT DESCRIPTION
For reasons known only to Mother Nature, each area of the country in which our family testers put this product through its paces, experienced prolonged bouts of rain. Needless to say, the weather encouraged playroom reenactments of the story of Noah's ark. Testers took the 44 animals out of the ark, matched them up in pairs, marched them two by two onto the ark, then carefully placed them back in their appropriate place. Once all the animals were loaded in, kids stacked the "levels" of the ark and helped Noah and his wife sail to safety.
OUR REVIEW
When we initially opened the box and took everything out, all my girls could say was, "Wow"! Even I was surprised at how many pieces came in this huge set which included 44 play figures & 11 storage levels. Basically, you need to match the animals to their shapes in the storage levels and then stack the levels in their proper order. Finish off by putting on the roof and adding a pair of giraffes.
This set was great especially for Kiana (3 years old) because it helped her with identifying different shapes and colors. First, she put all the animals in pairs and then tried to figure out which storage layer they belonged to by looking at their overall shape. We also played a game by identifying each animal (which is not as easy as it seems) and the sounds they make. Next, we grouped all the animals according to color. Finally, I just let the girls use their imagination and free play with all the figures. The possibilities of how your family can play with Noah's Ark are endless!
And if you need more proof that Tier Toys is a great company, check out all these awards that they've won in 2009:
The Toy Man Editor's Choice
The Toy Man Award of Excellence
The Toy Man Seal of Approval
PTPA Media Award
Great Dad Recommended Seal
Mr. Dad Seal of Approval
Tillywig Sterling Fun Award
Tillywig Brain Child Award
Creative Child Magazine Top Toy of the Year Award '09
2009 Parents' Choice Approved Award
National Parenting Center Fall 2009 Seal of Approval
iParenting Media 2009 Outstanding Products Awards
WTS Award
Mom's Choice Gold Award
Purchase your Stackers Noah's Ark at Amazon.com for $49.99.
This post was written for Tier Toys who provided the complimentary item for review in return for my honest opinions.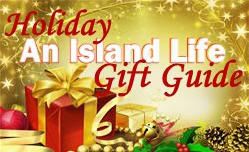 Check out other great gift ideas in the 2009 Holiday Gift Guide!

Owner of An Island Life. A flight attendant and mother to 3 beautiful girls. . . living a blessed life in Hawaii.