If you're a big believer in quality educational toys for your children, then you've probably already heard of Melissa and Doug.
COMPANY DESCRIPTION
From puzzles to puppets, plush to play food, magnetic activities, music and more, Melissa & Doug® is one of the leading designers and manufacturers of educational toys and children's products. Started in 1988 in their garage, Melissa & Doug® has something for everyone, with nearly 1000 unique and exciting products for children of all ages!
OUR REVIEW
We had the opportunity to review a couple of awesome products from Melissa and Doug: Wooden Tabletop Easel & Easel Companion Set. In hindsight, I probably should have waited until I was ready to let the girls play with these items because once I opened the box, that was it. All I heard for the next couple of days was, "Can we play with it now? What about now? Maybe now?" and so on and so on and so on. If I didn't mention it before, Kacie plans to be an artist when she grows up so she in particular could not wait.
First we set-up the Wooden Tabletop Easel. It was really easy to set-up . . .  I just had to insert a few over-sized wooden screws and attach the supply trays and we were all set. It literally only took a few minutes. This was a pretty cool easel with a chalkboard on one side and dry erase board on the other. It also came equipped with chalk, chalkboard eraser, dry-erase pen, and 4 magnets.
What I really liked about this easel are the double sides. This allowed both my girls to play at the same time and prevented an all-out war. I also liked that it had magnetic sides. Kiana is into magnets right now and she loved being able to stick her letters on there. The primary colors of the easel are great and would definitely fit into any childs' room decor. However, the best part is that my kids loved it and played on it for hours. It allowed them to express their imagination in a creative way and kept them quiet and busy. The perfect opportunity for me to get things done around the house!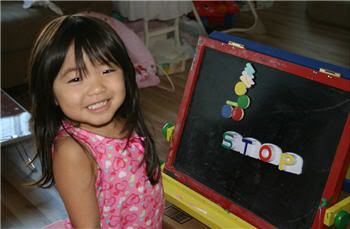 The Easel Companion Set is a must have to accompany this or any other easel you may already have. It came with 4 generously sized paint bottles, 4 brushes, 4 paint containers, a roll of easel paper, dry-erase pen & eraser, and a rainbow of colored chalk . . . pretty much everything a little artist could want. What I was really impressed with were the paint storage containers. I liked that they were deep and pretty much spill-proof. In addition to their cover, they also had an inside cover with a small hole in it, just big enough for a paint brush to go through. When my girls took their brushes out, the sides of the little hole helped to keep the excess paint inside the container. Anything to help with containing the mess is always a blessing.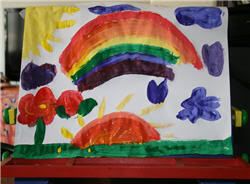 So if you're looking for great holiday gifts for all the children on your shopping list, check out Melissa and Doug today!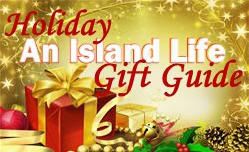 Check out other great gift ideas in the 2009 Holiday Gift Guide!

Owner of An Island Life. A flight attendant and mother to 3 beautiful girls. . . living a blessed life in Hawaii.