I Love Free Shipping!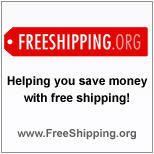 As most of you know, I'm a big online shopper. I love being able to sit in my pjs and browse to my heart's content while the kids happily play outside. It sure beats getting everyone ready, packing up the many baby essentials, driving in traffic, and circling for parking only to have Baby Bug go through a meltdown as soon as we get there.
However, the only problem is that sometimes shipping to Hawaii can get pretty expensive. In fact, sometimes the shipping costs more than the actual item! That's why I'm so glad I found FreeShipping.org.
FreeShipping.org is a site that provides you with a list of stores with free shipping. And we're not talking about lesser known stores either. How about Best Buy, Gap, Macy's, Office Depot, and Sears . . . just to name a few? Some of these stores do have restrictions, however, it may be worth your while to check it out in case you can make use of these great offers.
For example, how about the Target free shipping offer? Just spend $50 on eligible items which shows the "free shipping" logo and receive your items at your doorstep for free! How's that for convenience?
Or maybe you're a fan of Kohl's. Kohl's free shipping includes gift cards or anything purchased with a Kohl's Credit Card. Even if you don't have a Kohl's Credit Card, you can still take advantage of this offer by spending $75 on select merchandise.
What's really great about this site is that not only does it bring you free shipping offers but it also provides you with special codes for extra savings throughout the various stores. So, if you're thinking of making an online purchase, stop by FreeShipping.org first to see what's available. It could save you a lot of money!
I'm all for that!
About the author:
Kailani is the owner and founder of An Island Life. You'll find her sharing her daily life as a mother to 3 wonderful daughters, working as a flight attendant, and living a blessed life in Hawaii.