I was recently on a layover where I made my usual shopping stops – Target, Ikea, Trader Joes, Joanns, & Michaels – all the stores we don't have in Hawaii.
However, there was this one department store that I decided to visit that I've never been to before. I was warned beforehand that this was a bargain-type store where you really have to dig through the racks to find what you want. However, if you can find something you like, you'll more than likely get an unbelievable deal.
Now, I'm not usually the type of person who enjoys treasure hunting. I prefer my stores to be clean and organized but I figured I could rummage with the best of them.
I was wrong.
When I walked into the store, this is what I saw.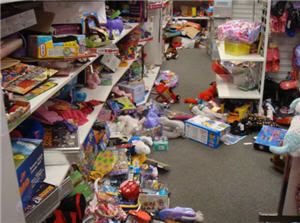 I was appalled! How can people destroy a store like this? And what happens to all those damaged and dirty items that no one purchases? I took one look and walked away.
Some of the other departments were not as bad and I did get a good deal on a new diaper bag. However, I'm not sure I'll make any extra effort to visit this store again.
Do you know which store it is?
Spotlight Comment from MomTo4KidsNy @ Chocolate Party:

I was going to say Big Lots too as that is what it looks like to me from the shelving. I don't have a Kohl's here at all. I have never in my life seen a store look like this! I'm shocked that people trash a store to find a good deal. I have kids and they know better than to touch something in a store much less throw it on the floor….we would leave the store so fast their heads would spin!

Owner of An Island Life and Family Review Network. Wife, mother, and flight attendant . . . living a blessed life in Hawaii.