Welcome Emilee Grace
May 1, 2008 by Kailani  
Filed under reviews

Woo hoo! Another new friend in An Island Life's sidebar. Check her out – it's Emilee Grace!
Emilee Grace specializes in essential items for the littlest members of your family. Launching in 2007, The Emilee Grace Company has found a way to balance practicality and style in all their products. Not an easy thing to do! They provide an extensive line of items including diaper bags, babylegs, nursing covers, pacifier clips, diaper/wipes cases, shopping cart covers, and even personalized pacifiers! All items are made with pride using quality materials.
Take a look around and I'm sure you'll find lots of things you just can't live without! Here's my wish list: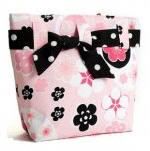 Doesn't this diaper bag just scream my name? It's made from 100% cotton and lined with a sturdy stain resistant canvas. It includes a magnetic snap closure and 5 interior pockets to organized all your on-the-go needs. You'll be the coolest Mommy in the playgroup!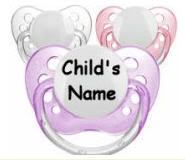 Never get your child's pacifier mixed up with another baby's one again. These personalized pacifiers are made of non-toxic, hygienically formed, natural bite-resistant materials designed to form naturally in the mouth, satisfying babies' need for supplemental sucking and providing parents with peace of mind.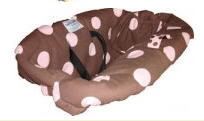 These cute cart covers will help keep your child protected from those germy shopping carts. They are fitted with elastic to accommodate all sizes of shopping carts, restaurant high chairs, mall strollers and park swings. They come equipped with 2 side pockets and a front loop where you can attach toys and pacifiers. What I find great about cart covers is that it keeps all the crumbs that Baby Bug makes contained and undetectable by other shoppers.
When you get a chance, stop by Emilee Grace where you don't have to give up your sense of style to be a Mommy.
About the author:
Owner and founder of An Island Life. Sharing my life as a mother to 3 wonderful daughters, working as a flight attendant, and living a blessed life in Hawaii.