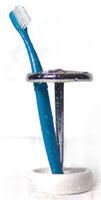 Recycline is an amazing company that takes used plastics and paper and turns them into stylish, high performance, eco-friendly products for your home. They believe that choosing these green items doesn't mean having to sacrifice quality, price, or performance.
We were fortunate to have the opportunity to test out their Preserve Toothbrushes. These cool looking brushes have handles made from recycled yogurt cups and is curved at a 45 degree angle which is what dentists recommend for thorough and even cleaning of your teeth. When it's time to change toothbrushes, just take your old one and place it in the postage paid envelope so it can be further recycled into plastic lumber. How cool is that?
And whats even better is that all of their products are made in the USA and are never tested on animals. Sounds like my kind of company.
If you'd like to try it out for yourself, print out this coupon for $1 off the purchase of 2 Preserve Toothbrushes at any Target nationwide. Your teeth and the environment will thank you!
Mahalo to Recycline & Mom Central for this great review opportunity!

Owner of An Island Life. A flight attendant and mother to 3 beautiful girls. . . living a blessed life in Hawaii.