This weekend Girlie Girl and I had the opportunity to visit the Polynesian Cultural Center along with other Hawaii Bloggers to experience their new nightime show, Ha Breath of Life. What an amazing evening!
We started by dining at the Alii Luau complete with kalua pig straight from the imu. As you know, kalua pig is Girlie Girl's favorite food but she's never actually seen the whole pig before. She was a little shocked at first but that didn't stop her from getting seconds during dinner time.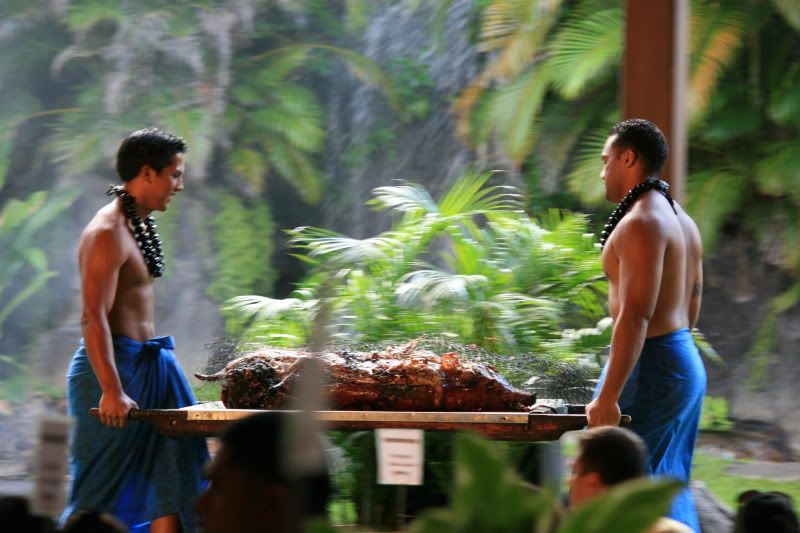 Also on the buffet was chicken long rice, sweet potato, lomi lomi salmon, fresh fruits, taro rolls, poi, island fish, teriyaki chicken, and of course haupia. The food was delicious and the entertainment was great. I especially liked that they had performances only during the beginning and end of the luau. I've been to luaus before where they have such loud entertainment during the entire dinner that I end up with a headache in the end. The break in performances gave me a chance to talk to the other people at the table and enjoy their company as well.
Then we were off backstage to see the cast of Ha preparing for their performance. Our escort, Cousin T, introduced us to various cast members and what really impressed me was that they were so willing to stop and talk to us even though they were scheduled to go on stage soon. The atmosphere backstage was relaxed as the members joked around with each other. You can really tell that they're just all one big ohana and how much they love to perform. We even met one woman who has been dancing at the Polynesian Cultural Center since the center opened in the 60′s. Now her grandchildren dance there, too.
Finally it was showtime.  The story of Ha is about a couple who gives birth to their son, Mana. We follow along in his journey to manhood as he visits various Polynesian islands and experiences the different cultures through music and dance. Through his odyssey, he encounters the love of his life, invading warriors, a death in the family, and the birth of his own son. The storyline kind of reminded me of The Circle of Life from The Lion King where a new generation is born.
For me, it was a very powerful performance. I've seen other PCC productions before but Ha is definitely the best one so far. I liked how they used the entire theater as part of their show which included an erupting volcano, waterfalls, special effects, and surround sound. They also had performers among the audience which made you feel like you were a part of what was going on.
Make an on-line slide show at
www.OneTrueMedia.com
I wasn't sure how Girlie Girl would feel about the 90 minute show since she's never really seen anything like it before. However, when it was all over, she turned to me and asked if we could come back and see it again. Needless to say, it was a big hit with her, too! In fact, she's been watching the videos I took of the show all day!
Performances run nightly at 7:30pm, except Sundays.
This post was written as part of the a program for the Polynesian Cultural Center who provided the tickets for the buffet and show.

Owner of An Island Life and Family Review Network. Wife, mother, and flight attendant . . . living a blessed life in Hawaii.