Game Stop Rocks!
As part of a review campaign at Mom Central, I was given a $30 gift card to spend at Game Stop.
Now, those who know me know how much I love my Nintendo DS Lite. I take it on all my trips and sometimes stay up late playing Cake Mania (I just can't get past that casino scene), Mario Party, & Diner Dash. So when I received my card this weekend, I ran to Game Stop the first chance I got.
As usual, the store was really crowded with kids out of school for summer. I always feel a little out of place there because everyone including the workers are probably young enough to be my kids. Ha ha.
I checked out the DS section and was pleasantly surprised to see that it was really well stocked. They even had titles that I haven't been able to find for a while. Of course, this meant I was about to spend more than $30. I ended up getting Crosswords DS, My Fashion Studio, Smart Kids Clubhouse, and . . .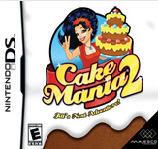 Woo Hoo!
And did you know that if you purchase a used game and decide you don't like it, you may return it within a week for a full refund? This info is courtesy of Christopher, your helpful Game Stop employee.
Thank you to Game Stop and Mom Central for giving me another reason to ignore the laundry.