30 Days to Natural
With the holidays coming up there will be lots of family parties and friends stopping by. This means a lot more cleaning around here. That's why I was thrilled to be able to review some products from Green Works by Clorox.
From the site: "Clorox is leveraging its world-class expertise in the household cleaning category to develop a new platform of natural cleaning products called Green Works. These products are made with natural, plant-based ingredients and clean as well as conventional cleaners on most soils. Green Works products are a practical way for consumers to live a greener lifestyle without compromising performance."
We received the bathroom cleaner, all-purpose cleaner, dilutable cleaner, & dishwashing gel. What we really liked about these products is the idea that they're all natural and safe for the environment. And since they're made by Clorox, you know that they're excellent cleaners as well.
Clorox currently has a site called 30 Days to Natural where they're challenging all of you to spend the next 30 days becoming more "green" and do your part in saving the environment. They offer valuable tips and suggestions on how to do just that. Check it out today!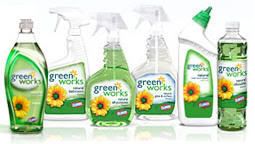 About the author:
Owner and founder of An Island Life. Sharing my life as a mother to 3 wonderful daughters, working as a flight attendant, and living a blessed life in Hawaii.