June 9, 2008
Hey everyone! Looks who's hanging out in my sidebar for the next month! It's Baby Girl Bracelets by Sher's Wares!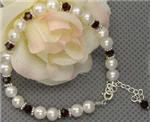 If you don't already know Sherry or her bracelet boutique, you're missing out. I met her a while back when she inquired about sponsoring a giveaway and generously sent Girlie Girl a beautiful pink crystal bracelet. In fact, it's one of her favorites still. The quality and workmanship is evidence that Sher puts a lot of pride into her designs. Since then we've gotten to know each other better and I consider her one of my best blogging buddies.
Baby Girl Bracelets has the perfect child's bracelet for almost every occasion you can think of - holidays, christening, birthdays, weddings, or anytime you want to add a little bling to complete the perfect outfit. However, my absolute favorite ones are the personalized name bracelets. These make the perfect gifts and will sure to become a family heirloom.
Stop by Baby Girl Bracelets today or you can find Sherry at Everything Moms.