The Island News
On occasion I receive emails from various companies and organizations asking me to forward their messages on to you. So, here they are in their own words . . .

Every year, Kohl's awards over $350,000 in scholarships and prizes to more than 2,000 children whose volunteer efforts have made a positive impact on their communities. Now's your chance to nominate an outstanding child for the Kohl's Kids Who Care Scholarship Program.
Sensei for Weight Loss is a mobile weight loss and health coach that generates a personalized meal plan for you – according to if you usually eat fast food, whip together a quick meal, or leisurely cook dinner. To use Sensei for Weight Loss, just go to Sensei.com and sign up for the "Sensei Anywhere" program. This is the program that will send you reminders and meal plans directly to your mobile phone, and you can check it out online as well. At the beginning of each week, Sensei sends you a full grocery list that is optimized to reduce food bills so that you are prepared for the recipes throughout the week.  There is even a coupon section where you can find all of the deals at your local grocery stores.
Feb. 1-7  is Burn Awareness Week, and during this week, Shriners Hospitals for Children will kick-off a year-long campaign focused on preventing gasoline burn injuries. A special Web site has been developed for the campaign, www.burnawarenessweek.org. "Preventing burn injuries and burn awareness education should be an ongoing effort, not just a week-long campaign," said Peter Armstrong, M.D., chief medical officer at Shriners Hospitals for Children. "We are declaring 2009 the year of 'Preventing Gasoline Burn Injuries.'"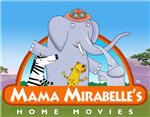 "Mama Mirabelle's Home Movies," National Geographic's animated preschool series for PBS KIDS!, will be airing daily on Sprout, beginning this Monday, Jan 26 at 3:15 PM ET as part of "The Sprout Sharing Show." In case you haven't yet been introduced to Mama and her pals, "Mama Mirabelle's Home Movies" is a warm-hearted, high-spirited show about a sassy, soulful elephant host (voiced by Vanessa Williams) and the young animal characters she cares for on the African savanna. Using live-action footage from the National Geographic and BBC archives, the show illuminates the real world for preschoolers, helps them find their place in it and provides insight into animal customs and behaviors. We hope you'll come visit us at our new home & help spread the word! See you in the movies (and now on Sprout)!
"Getting to sleep and staying that way is no easy task for new moms. I can't tell you how many times I've innocently rolled over in the middle of the night only to have my eyes pop open, my heart skip a beat and a bevy of fears and concerns attack my peaceful rest:." Caron Guillo warns first-time expecting moms. In her latest column, Caron discusses the many concerns and worries that can keep mothers from getting the rest they need and deserve, and then offers a few helpful and humorous solutions, from her personal experience, in "Bad Mom – Tales from the Darkside", on the light-hearted New Christian Voices (www.newchristianvoices.com).
Sometimes the most important issues are the hardest to talk about. Angela Williams, founder of the not-for-profit organization VOICE Today, Inc., suffered through 14 silent years of incest at the hands of her stepfather. She understands all too well how hard it can be to break the silence and that's why she created the VOICE Today organization. The organization plans to get the word out through a weekly radio show titled Break the Silence and via speaking engagements about the organization. Their website, www.voicetoday.org, has links to Christian counseling services, support groups and an anonymous blog where survivors can confidentially share their stories.
The Playroom is a Yelp-style forum that allows site visitors to post reviews of their favorite local resources, from boutiques to pediatricians to playgroups.  You can also comment and rate each listing, making the Playroom a great place to share information on pregnancy and parenting.  Users can also post "sneak peeks" at their lives – photos and videos of their families, or that they've found online, that they'd like to share with The Cradle community.  It's another step towards making the online world a friendlier and more inclusive place.
About the author:
Owner and founder of An Island Life. Sharing my life as a mother to 3 wonderful daughters, working as a flight attendant, and living a blessed life in Hawaii.