August 14, 2007
Thank you to everyone for your overwhelming concern regarding my family's safety as Hurricane Flossie heads towards Hawaii. We are all fine and well stocked on the necessities. In fact, you would never even guess that a hurricane was approaching by looking at the blue skies outside.
However, as of this morning, Hurrican Flossie was about 190 miles south-southeast of Hilo and 390 miles southeast of Honolulu moving at 11 mph. It has been downgraded to a category 2 hurricane as it heads on course towards the Big Island just after residents there were rattled by a 5.3 magnitude earthquake on Monday.
We are hopeful that the hurricane will weaken further and pass by without causing too much destruction. However, Meteorologists cautioned that even a slight change of course could bring the storm closer to land. They're asking residents to be prepared. I guess that would explain the chaos I experienced at Costco last night.
In any case, so far it's been just another typical day in Hawaii. Mahalo again for your concern and I'll keep you posted.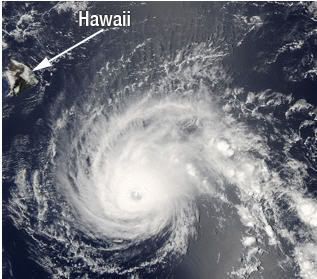 Photo courtesy of NASA