Honolulu City Lights
Every year during the holidays, we take the girls to Honolulu Hale to see the Honolulu City Lights display. Here's you'll find colorful "local" displays of Snowmen with Surfboards, Mele Kalikimaka signs, and a Santa in shorts flashing a shaka sign.
You'll also see many beautiful trees decorated by different State of Hawaii departments according to that year's theme. This year it looks like the theme was "sweets" because they were all decorated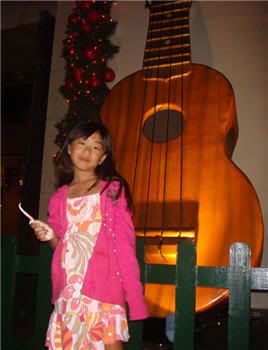 with candy, cupcakes, and pastries. The centerpiece of this whole display is the 90' decorated tree in the middle of the courtyard that lights up with various colored lights and beautiful Hawaiian ornaments.
The only things that were missing were the carnival and train rides that they usually have. Maybe it's still too early in the month but it was a little disappointing for the girls.
However, as we were walking around the block we noticed an old-fashioned fire truck giving tours of Honolulu Hale and the downtown area. We followed it back to the Hawaii Mission Houses Museum and was lucky to have caught the very last ride of the night. It was amazing! They even gave us bells to ring whenever we saw pedestrians passing by. The girls had a blast. We are definitely going back again next year.
About the author:
Owner and founder of An Island Life. Sharing my life as a mother to 3 wonderful daughters, working as a flight attendant, and living a blessed life in Hawaii.