May 24, 2007
As much as I miss being on vacation, it's sure great to finally be home.
Of course, our favorite place was Disneyland. It's amazing to see so many people from all over the world and all walks of life come together to enjoy the Magic Kingdom. Not only is it a playground for children, but it also brings out the kid in all of us. Where else would you see grown adults walking around with Mickey hats and riding on a carousel. For some reason, you're able to let go of all your inhibitions, act like a kid, and not care who's watching.
Girlie Girl's favorite thing was getting autographs from all the Disney Princesses and characters. Apparently, the princesses don't walk around the park like the used to. Now you have to visit them at the Princess Fantasy Faire where you can meet them 3 at a time - you just don't know which 3 will be there. So of course, we had to stand in line on three different occasions in hopes that there would be someone new.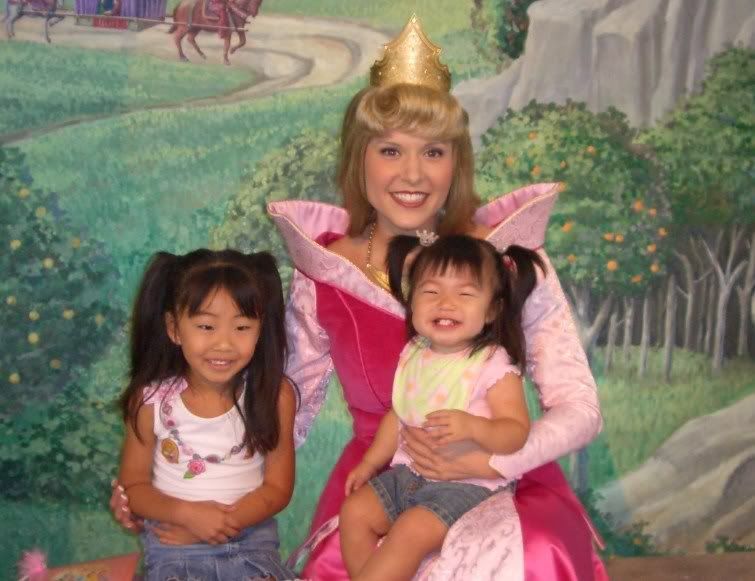 The most memorable one would have to be Aurora since for some reason, Baby Bug was just drawn to her. Once she saw the princess, she made a mad dash to her and gave her a big hug. Aurora was so tickled by it that she actually let Baby Bug sit in her lap. I was a little surprised since the other princesses tended to be a little more proper and not too keen on the kids getting too close. I guess I don't blame them - those costumes must cost a fortune. Even when Girlie Girl had moved on to the next princess, Aurora kept carrying and talking to Baby Bug. She just didn't want to let her go! We saw her again in passing about 5 hours later and she actually asked where Baby Bug was!
Baby Bug's favorite thing was the Parade of Dreams. I don't think I've ever seen her stand so still for so long. The music and dancing were so awesome that we watched the parade 3 times! I just wish they had a CD available for purchase. I would love to be able to hear the songs again.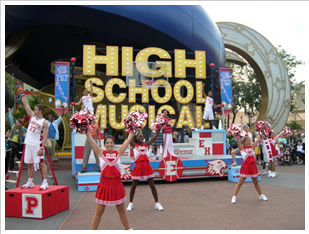 The High School Musical Pep Rally at California Adventure Park was really cool! It's a very upbeat and entertaining performance but you definitely need to know the songs ahead of time to really be able to get into it.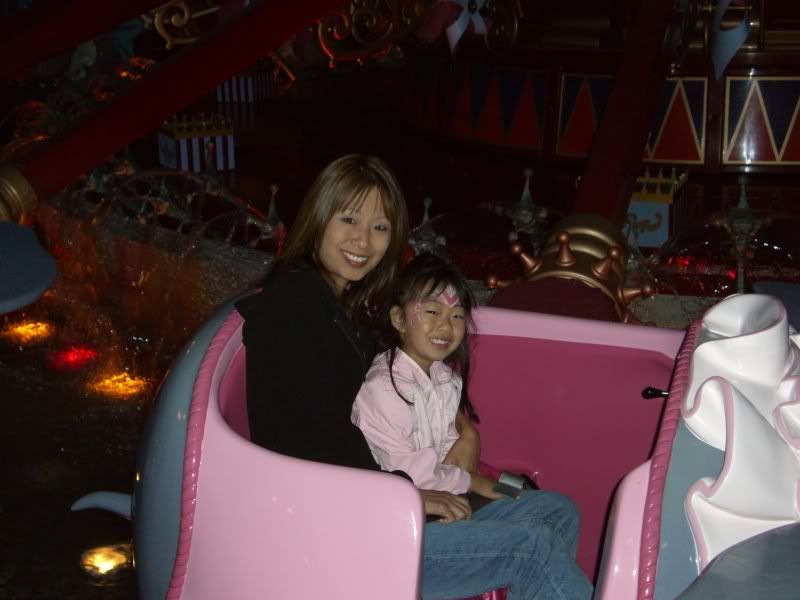 On the last night of the trip, DH took Baby Bug back to the hotel after dinner and Girlie Girl and I had an evening all to ourselves. She got to ride whatever she wanted and we were able to spend some real quality time together . . . just the two of us. As we were leaving the park, I mentioned to Girlie Girl that I felt a little sad knowing that we were going home in the morning. Do you know what she said? "It's okay Mommy, we have our memories and pictures." She's becoming so grown-up. I think that makes me even more sad!
The flight from Seattle to Honolulu went remarkably well. Girlie Girl is at the age where she can pretty much entertain herself. She spent the time coloring and watching the in-flight movie, Charlotte's Web. Baby Bug either slept or watched High School Musical on the DVD player. I was so proud of their behavior. Even the passengers around us commented on how well behaved they were. It's always nice to hear good things about your kids.
Of course, not everything went as planned and I even had to write a complaint to the General Managers of both hotels that we stayed at. However, I'd rather just concentrate on the wonderful memories we made. And even though Baby Bug will probably not remember this trip when she's older, the excitement on her face will be forever in my mind.
What a wonderful way to start the summer!
If you've been there before, what's your favorite attraction at Disneyland?