March 10, 2008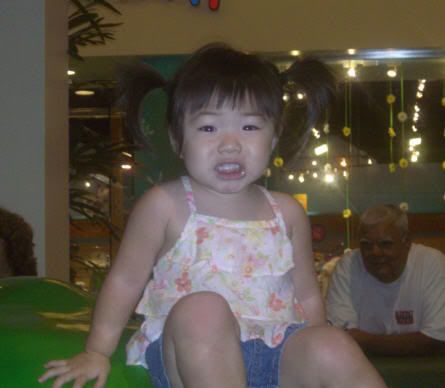 See this seemingly harmless face? How can something so cute cause so much trouble?
Right after I took this photo - and I do mean immediately - Baby Bug started coughing . . . and coughing . . . and coughing. I've seen this many times before so I knew what was about to happen. I threw the camera in the direction of the diaper bag, sprinted over to her, grab her around the waist with one arm, and placed my other hand over her mouth.
I was too late.
All of a sudden, kids who were happily playing were now screaming and running in the opposite direction. Parents were either restraining their children or packing them up to leave. Girlie Girl had picked up the camera and was now taking photos of our embarrassing situation. I was trying to get Baby Bug to sit still so I could clean everything up while trying not to act like I was dying of embarrassment.
But what do I clean up first? Do I try to erase all signs of contamination on the playground while Baby Bug runs around in her soaked clothes? Do I try to wipe up Baby Bug first before she starts rolling around on the vinyl benches? Or do I yell at Girlie Girl to STOP.TAKING.PICTURES!
I decided to clean up the mess first in hopes of salvaging some of my pride. However, once I used my Huggies Wipes, I now had to find something to dry the area. I was afraid that someone would slip and fall. Unfortunately, the only thing I had was Baby's Bug's extra clothes which I stowed in the diaper bag before we left home. I had no choice.
I used her clean clothes to wipe up the area, took off her dirty ones, wrapped her in a blanket, informed Security what had happened, then headed for the nearest exit.
Our day of shopping was over.
Spotlight Comment from Lucy of Free From:

Ha - happens to us all! Mothers have to abandon all pride.

My daughter once threw up in a double-buggy we were testing at a fancy department store. The staff didn't help at all, but the other parents around did. I owe them - I'll always offer to help if I see someone in dire straits like that, because I know just what it is like!