I was tagged a while ago by Go Visit Hawaii & Pediascribe to show you what my desktop looks like.
Here's how it goes:
[TAG STARTS HERE]

My Desktop Free View Instruction:

A. Upon receiving this tag, immediately perform a screen capture of your desktop. It is best that no icons be deleted before the screen capture so as to add to the element of fun.

You can do a screen capture by: [1] Going to your desktop and pressing the Print Scrn key (located on the right side of the F12 key). [2] Open a graphics program (like Picture Manager, Paint, or Photoshop) and do a Paste (CTRL + V). [3] If you wish, you can "edit� the image, before saving it.

For MAC users: Press [ Apple] [ Ctrl ] [ Shift ] and [ 3 ]

B. Post the picture in your blog. You can also give a short explanation on the look of your desktop just below it if you want. You can explain why you preferred such look or why is it full of icons. Things like that.

C. Tag five of your friends and ask them to give you a Free View of their desktop as well.

D. Add your name to this list of Free Viewers with a link pointing directly to your Desktop Free View post to promote it to succeeding participants.

List of those who have participated:

Francine of La Place de Cherie
Chez Francine
Bloggishi
Unchained Melody
LadyJava's Lounge
Mariuca
Revellian Dot Com|Desktop
iRonnie
Rebecca
Jon
Rolando
Speedcat
Brown Baron
Tish
Mike
Money Online
NoDirectOn
Max
Elena's Photos
Comedy Plus
MeAndMyDrum
The Random Forest
Samir Bharadwaj
My Brain Dumper!
Go Visit Hawaii
Dawn @ Coming to a Nursery Near You
Karen @ Pediascribe
Stacey @ Jamee Forever
Meredith @ Pregnantly Plump
Karly @ Wiping Up Snot
MelodyAnn @ ShooFly

add yours here after doing this tag.

[TAG ENDS HERE]
Here is my home computer: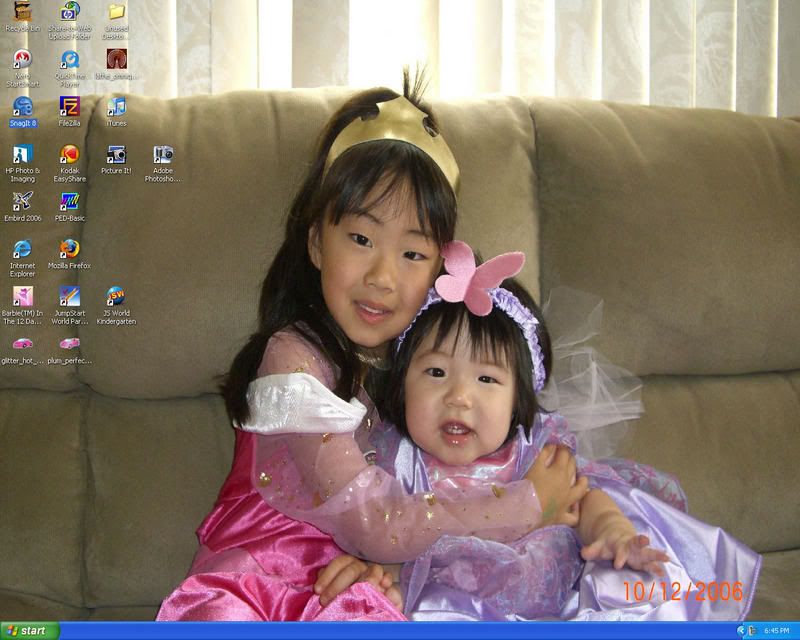 And here is my laptop (you knew it had to be pink, right?):
So, what does it say about me? I have no idea. What do you think?
In any case, I've decided to tag some of my newest blogging friends: FeeFiFoto Blog, Pinkjagxj, My Baby Advice, Memarie Lane, Sher's Wares, and you! Let me know if you do this so I can come and visit!

Owner of An Island Life. A flight attendant and mother to 3 beautiful girls. . . living a blessed life in Hawaii.