Aloha Friday #98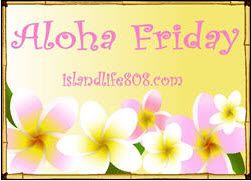 Welcome to this week's edition of Aloha Friday.
In Hawaii, Aloha Friday is the day that we take it easy and look forward to the weekend. So I thought that on Fridays I would take it easy on posting, too. Therefore, I'll ask a simple question for you to answer. Nothing that requires a lengthy response.
If you'd like to participate, just post your own question on your blog and leave your link below. Don't forget to visit the other participants! It's a great way to make new bloggy friends!
My question is:
When you go grocery shopping, do you go with a plan of attack or just wander through the aisles?

Comment spotlight by Sweet Serendipity: I generally make a list but forget to look at it half the time because I have to shop with 3 kids, which is no fun. I'm lucky if I manage a coupon or two. I feel like such a disaster after reading that nearly everyone has a detailed list and menu plans, etc. I am not that organized, lol.
About the author:
Owner and founder of An Island Life. Sharing my life as a mother to 3 wonderful daughters, working as a flight attendant, and living a blessed life in Hawaii.