September 27th, 2008 by Kailani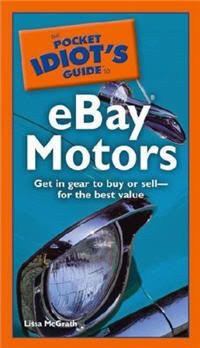 Are you as addicted to eBay as I am?
If you're like me, you know the basics . . . how to register, how to list, how to bid, and how to conduct financial transactions via PayPal. Well, what if you're selling or buying a motor vehicle on eBay? Are things really that different?
Well, thanks to The Pocket Idiot's Guide to eBay Motors, I now know the answer.
From the site: "The essential book to read before bidding, buying, or selling. Buying or selling a vehicle on an eBay auction can be complicated. The buyer must know what to look for and what to watch out for. The seller must know about providing accurate descriptions and photos, shipping thecar, and many overlooked details. Both buyer and seller can bid and sell with confidence after pocketing this book. The eBay Motors sales arm has grown rapidly since 2002 with more than 2 million vehicles sold online. More than 70 percent of all vehicles sold on eBay Motors are interstate-and, therefore, complicated-transactions. Essential reading for anyone buying or selling a vehicle on eBay."
This book gives you detailed instructions on the best way to buy or sell a motor vehicle on eBay - visuals that sell, writing descriptions & titles, listing & managing your auction, signing on the dotted line, physical ownership, and what to do if something goes wrong.
The best part is that a lot of these principles can be used for other eBay auctions as well. Lots of great tips in here!
Win it!
You could win a copy of The Pocket Idiot's Guide to eBay Motors right here! To enter:
Just mention in comments before midnight, Oct 4th something you've sold or bought on eBay. That's it!
A random winner will be selected and notified on Oct 5th.
The winner will then have 3 days to claim their prize.
Don't forget to leave a way to contact you in case you win.
To earn more entries, you may do one or all of the following. Each one counts as an extra ticket. Please leave a separate comment for each extra entry.
Subscribe to my feed.
Mention this giveaway on your blog with a link back here and to The Penguin Group & The Complete Idiot's Guide.
Place my button in your sidebar.
This giveaway is open to anyone world-wide! Good luck