TI- Nspire by Texas Instruments
This giveaway is now closed. Thank you for your participation.
The winner is Joanna Smith.
Congratulations!

Why didn't they have something like this when I was in high school? It definitely would have made my life a little easier.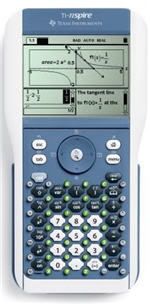 From the site: TI-Nspire handheld is the latest in learning technology from TI, creating a dynamic dimension for students to visualize concepts and take an engaging, interactive role in their learning. Features include:
Linking multiple representations
Interchangeable TI-84 Plus Keypad*
Permitted on SAT**, ACT, PSAT/NMSQT** and AP**exams PLUS Praxis and IB exams when used with the TI-84 Plus Keypad
A while ago, I had the opportunity to review the TI-84 so I was glad to see that the TI-Nspire had an attachable keyboard that allows it to be used on exams that permit TI-83 Plus/TI-84 Plus family graphing calculators, such as SAT*, ACT*, PSAT* and AP* exams. I feel that if you're going to spend a lot of money on something, it should be flexible in it's usage.
The screen size is almost twice as big as previous models which really helps when doing complicated mathematical problems. It also allows you to save your work so that you can pick up where you left off at a later date. This also allows you to finish the assignment at home.
Another feature of the TI-Nspire is the ability to view problems in different points of view since it displays multiple representations - algebraic, graphical, geometric, numeric and written – on a single screen. This was a really cool feature since it forces you to see the same thing in different ways.
This is definitely something any high school student would benefit from using. You may purchase your unit at almost any store that sells school supplies including Amazon.com for $125.00.
Win it!
How would you like to win the TI-Nspire for your family? To enter:
Stop Texas Instruments before midnight, Oct 3rd and take a look at the different features of the TI-Nspire.
Then come back and mention in comments which one you think is the most useful. That's it!
A random winner will be selected and notified on Oct 4th.
The winner will then have 3 days to claim their prize.
Don't forget to leave a way to contact you in case you win.
To earn more entries, you may do one or all of the following. Each one counts as an extra ticket. Please leave a separate comment for each extra entry.
Subscribe to my feed.
Mention this giveaway on your blog with a link back here and to Texas Instruments.
Place my button in your sidebar.
This giveaway is open to US addresses. Good luck