ZoomAlbum

With all the photos I take, I'm always looking for new ways to share my pictures. When I first heard of ZoomAlbum, I thought it was great idea and liked that the finished product was so compact. I was thrilled for the opportunity to try it out for myself thanks to Family Review Network.
PRODUCT DESCRIPTION
ZoomAlbums are small, portable photo albums with a professional look that customers can make at home. In just a few minutes, any user can create a handmade gift or keepsake using the familiar technologies found in most households today: a PC, digital camera, camera phone or scanner, and a color Inkjet printer.
MY REVIEW

Using the ZoomAlbum software was a piece of cake. I wish all photo-type software was this easy to use. Just download the program into your computer, open your file of photos, drag and drop into the work area, edit, and print. It took me less than 5 minutes to get my project to the printing stage without even having to read the directions. Once I had my project printed, I just followed the step-by-step folding directions and inserted it into the photo book cover which I also designed. That's it!
I loved how nicely all the bright and colorful pictures lined up when I printed them out. They were placed in the exact spots and ready to be folded up. My only recommendation is to make sure you read and understand the folding directions. It was a little confusing if you just looked at the whole process but once you went through each step one by one, it all made sense.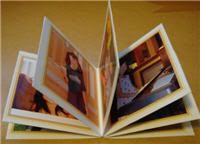 The only downsides were that I wish I had more control over the placement of the text for the cover on the photo book and I would have also liked to be able to save my project on my laptop and then access the project from my home computer to print out.
However, these are all minor issues when compared to the overall finished product. I love it! The quality was amazing and it's definitely something I'd be proud to show off. In fact, I'm going to keep my ZoomAlbum in my flight bag to share with all my work friends.
ZoomAlbum makes great gifts for all the special people in your life, especially those who live far away. It's a wonderful way to share your photos in a compact and convenient way.