The Venus Week (Giveaway)
This giveaway is now closed. Thank you for your participation.
The winner is comment #26: Linda Peters
Congratulations!
BOOK DESCRIPTION
All women have it, but may never have thought about it-it's the one week of the month when you feel great about yourself, more attractive, focused, and receptive to others. Your hair shines; your skin glows. But why does this happen? And why do we often feel so out of balance the rest of the month. Leading gynecologist Dr. Rebecca Booth created The Venus Week metaphor to help her patients better understand what influences the constant physical, emotional, and sexual changes they feel.
MY REVIEW
Before I read this book, I had never heard of The Venus Week. Booth describes this time as "a window of days each month when estrogen and testoterone are at their peak. In order to encourage us to reproduce, Nature cleverly gives women a gift: when we are most likely to conceive, we feel and look our best."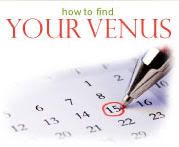 I thought this book would be filled with medical terms and terminology but found it to be very easy to read and understand. It's written in every day language that makes you feel like the author is talking with you and not at you. It taught me how to find my Venus Week so that I could make the most of it and included tips on increasing my energy level. Something I definitely need.
This book is a great resource for women at any age. It takes you through a woman's cycle from pubescence to menopause and helps you understand the different stages you go through. In fact, this book is also great to help the man in your life understand and appreciate your body and all the things it goes through. I guarantee that they will have a whole new perspective!
WIN IT!
I have a copy of The Venus Week as well as a Venus Toolbox which includes: Total body exercise bands, Omega-3 vitamins, Revolutionary protection from Always Infinity, Dark chocolate treat by Godiva, and Gourmet cinnamon almonds all beautifully packaged in an Envirosax reusable tote for one lucky winner. To enter:
Just mention in comments before midnight, April 9th why you'd like to win this book. That's it!
A random winner will be selected and notified via email on April 10th.
The winner will then have 3 days to claim their prize.
To earn extra entries, you may do one or all of the following. Each one counts as an extra ticket but you must leave a separate comment for each one.
Subscribe to my feed.
Mention this giveaway on your blog with a link back here and to The Venus Week.
Place my button in your sidebar.
This giveaway is open to everyone world-wide! Good luck!