Being Dad: Inspiration & Information for New Dads (Giveaway)
This giveaway is now closed. Thank you for your participation.
The winner is comment #29: Dina
Congratulations!
There are so many books and DVDs out there for the expectant mom. But what about the dads? Don't they also need a little help and guidance as they embark on this new journey? Well, Being Dad: Inspiration & Information for New Dads does just that.
PRODUCT DESCRIPTION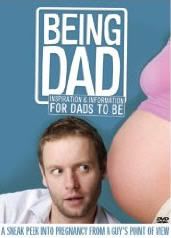 Finally…An easier way for guys to learn what to expect when she's expecting! Vast information is available to help women during those 40 weeks in which they grow from a woman into a mother. Men grow during those 40 weeks too. Now there's a DVD that will help men and couples understand what the guy can expect as he transforms into being a dad.
MY REVIEW
We found Being Dad to be a wealth of knowledge and resource. Even though my husband has been through this twice before, he was able to learn new things as he watched this video. During the film, experts follow 40 dads from across the county as they discuss and prepare for childbirth. They talk about pretty much every topic you can think of including preparing for the worst.
The best part is that it's really designed for men. The terminology and the way the material is presented really focuses on the way men process information. They made it clear exactly what topic was coming up next and gave very real examples that men can relate to.
The second video in the series focuses on what happens to your life after baby is born: sleep deprivation, feedings, illnesses, diaper changes, etc. It pretty much takes over where the first one leaves off. Again, it's geared towards men in the way the topics are shared.
Overall, we found these videos to be a great resource tool. My husband learned more by watching Being Dad than he did the whole nine months that I was reciting to him from my pregnancy books. Plus, he seemed to take the information more to heart when it was coming from other males. I'm just glad he finally got the message.
WIN IT!
I have a copy of Being Dad: Inspiration & Information for New Dads 1 & 2 for one lucky winner. To enter:
Just mention in comments before midnight, April 17th why you'd like to win this book. That's it!
A random winner will be selected and notified via email on April 18th.
The winner will then have 3 days to claim their prize.
To earn extra entries, you may do one or all of the following. Each one counts as an extra ticket but you must leave a separate comment for each one.
Subscribe to my feed.
Mention this giveaway on your blog with a link back here and to Being Dad.
Place my button in your sidebar.
This giveaway is open to everyone world-wide! Good luck!