Baby Smarts
As parents, we know that babies learn so much in their first year of life….and we are there to help them along the way.   I was just given the opportunity to review a new book, Baby Smarts: Games for Playing and Learning, that will help parents have fun with their little ones during this special first year, while encouraging necessary development at the same time.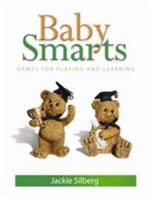 Book Description:
Baby Smarts is filled with developmental games based on the latest brain research. The book is divided into 4 chapters, each representing a 3-month period in a baby's first year. Each activity helps develop and reinforce the skills babies need in order to reach typical developmental milestones.
My Review:
I would have loved this book when I was pregnant. I had sooo many books on my nightstand…..some helpful, some not. This book would have been practical. Many books out there talk about developmental milestones…. what your child should be doing at 6 months. I never came across one, until now, that gave you pages of games and activities along with the list, to help your child reach those milestones.
I remember trying to get creative on my own figuring out ways to get my daughter to do certain things physically……she especially  hated tummy time, but I knew it was important since she slept on her back. This book would have been sooo helpful and I am sure would be a lifesaver to other parents  who can at times be so sleep-deprived. Oh, I remember those days well.
The best part is that the activities in the book require NO expensive gadgets or toys. It reminds us that yes, toys are always fun, but they are not necessary for a healthy, developed child. Parents can get creative with pots and pans, twigs, cereal, hats and wooden spoons.
While some of the activities are simple things that a parent might already be inclined to do, the real benefit of the book is having it all in one place, according to age.
A great idea for any expectant couple!
Debra traded in high-powered suits and high-heeled shoes for a new role as mommy–crayon enthusiast, storyteller, and kisser of boo-boo's. You'll find her helping families at A Frugal Friend, where she teaches others how to reduce their expenses through coupons, rebates, freebies and deals.