Bangerang Bakeshop (Giveaway)
This giveaway is now closed. Thank you for your participation.
The winner is comment #321: Annemarie
Congratulations!
Who doesn't love delicious cupcakes? I, for one, have never been able to pass one up and neither can my girls. That's why we eagerly anticipated our delivery from Bangerang Bakeshop.
COMPANY DESCRIPTION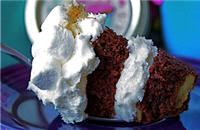 Here at BANGERANG BAKE SHOP (FORMERLY FAT DADDY BAKE SHOP) I make the most luscious sweet treats with only the best ingredients and all the love I can jam into a cupcake! Other bakeries say they use quality products..but I *tell* you what I put into my super awesome cupcakes! I *only* bake with the finest pure vanilla in the world - Nielsen-Massey Vanillas. I am equally picky when it comes to the chocolate I bake with. Scharffen Berger chocolate is the only chocolate you'll find in my little lovelies. I make my own vanilla sugar with real Madagascar vanilla beans and bake with organic eggs and King Arthur unbleached flour. All my ingredients are of the highest quality.
MY REVIEW
First of all, can I say how much I love this website? All that pink and sparkles and cupcakes . . . I could just stare at it all day.
Anyway, we received our Bangerang Bakeshop Cupcakes - Chocolate Competition and Captain Carrot Cake - and all I can say is WOW! They arrived in beautiful glass jars and were tied with colorful ribbons. They looked so pretty that I immediately thought how perfect they would be as favors for baby or bridal showers.
Of course, once my girls saw them they wouldn't stop bugging me until I agreed to open them up. They dug right in and didn't come up for air for at least a few minutes. I had to fight my way in there to get a taste of them myself. OMG! They were fresh, moist, and delicious! What more can I say except - "Pure Heaven!"
And did you know they have a Cupcake of the Month Club? Here you'll receive 2 Bangerang Bakeshop Cupcakes each month delivered right to your door. What a great gift this would make for someone special in your life!
WIN IT!
I know this is the part you've been waiting for! I have a $25 gift certificate for anything in the Bangerang Bakeshop! To enter:
Just stop by Bangerang Bakeshop before midnight, April 3rd and check out their delicious flavors.
Then come back and mention in comments which one you'd like to try. That's it!
A random winner will be selected and notified via email on April 4th.
The winner will then have 3 days to claim their prize.
To earn extra entries, you may do one or all of the following. Each one counts as an extra ticket but you must leave a separate comment for each one.
Subscribe to my feed.
Mention this giveaway on your blog with a link back here and to Bangerang Bakeshop.
Place my button in your sidebar.
This giveaway is open to US addresses. Good luck!