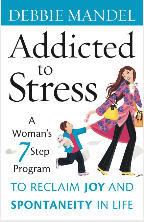 And what woman hasn't felt stressed at one point or another in life? With all the different roles we play: wife, mother, daughter, friend, employee, sister, etc. it's no wonder we sometimes find ourselves a little worse for the wear.
Addicted to Stress: A Woman's 7-Step Program to Reclaim Joy and Spontaneity in Life by Debbie Mandel is the perfect solution to helping women take a step back and re-examine life. It's a step-by-step guide which teaches "self-empowerment, excercise and self-care, healthy narcissism, renewing sensuality, and the role of humor in woman's relationships."
For me, the hardest part was taking a hard look at my life and identifying that I needed help. I'm known for always taking on too much responsibility and usually run myself ragged trying to keep up with all the deadlines. And who suffers for it? My family. Well, no more.
My favorite chapter is "Cultivate Your Sense of Fun and Humor". My main problem is taking things to seriously. This chapter talks about experiencing situations from your inner child and seeing the humor in things you may not have otherwise thought funny. If I can just learn to relax and take things more lightly, I know it would make a big difference on my daily stress level.
This book has come at a great time in my life since we're currently dealing with a stressful family situation. I have really enjoyed the no-nonsense and practical advice given by Mandel and I know it could be a valuable resource tool for you, too.
Win it!
I have a copy of Addicted to Stress: A Woman's 7-Step Program to Reclaim Joy and Spontaneity in Life by Debbie Mandel to give away to one lucky winner. To enter:
Stop by Debbie Mandel's site before midnight, Jan 7th and check out this book's chapters.
Then come back and mention which one you find most interesting. That's it!
A random winner will be selected and notified on Jan 8th.
The winner will then have 3 days to claim their prize.
To earn extra entries, you may do one or all of the following. Each one counts as an extra ticket but you must leave a separate comment for each one.
Subscribe to my feed.
Mention this giveaway on your blog with a link back here and to Debbie Mandel's site.
Place my button in your sidebar.
This giveaway is open to US addresses. Good luck!
Thank you to Mom Fuse for this great review opportunity!
Aloha
Jamie Z
,
Nina C
,
Trish
,
Jill Miller
,
Pamela Callahan
, Green Yak, Colette S, Stephen Saunders, Mrs. Peets, Misty VanEpps,
Zerskat
,
Amandasue
,
Christopher h
, Angie,
Joanne Schultz
,
SANDY
, Deepikaur,
Katherine Frazier
,
Sheila
,
Denise
, Erin,
Jenn S.
,
Ta Sardina
,
Heather
, Ashley,
Clenna in NH
,
Maggie M
,
MJ
, Valerie m, Cindy,
Kathemc
,
Susan varney
, Donna,
Shannon
, Thao, Jamie,
Karen
,
Kathy Scott
, Mama Zen, Susan S., and
Jo