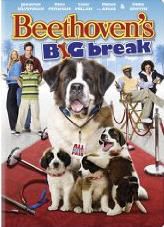 One of movie's all-time favorite hound is back in Beethoven's Big Break scheduled to be released on December 26, 2008.
From the product: "Fall in love with the big-hearted, slobbering 185-pound St.Bernard, Beethoven, in this howl-arious adventure that features an all-star cast, including Johnathan Silverman, Reah Perlman, Moises Arias, Stephen Tobolowsky, Ocar Nunez, Cesar Millan, Joey Fatone, and Eddie Griffin.
Although animal handler Eddie works with lots of creatures, he has a strict NO PETS ALLOWED policy and won't let his son Billy keep adorable stray dog Beethoven and his family of puppies. But when dot-nappers stealthe canine star of the movie Eddie's working on, the studio big shots must quickly find a replacement and unexpectantly cast the lumbering canine as their next big star. Through his rambunctious antics and larger-than-life personality, Beethoven not only crashes into Hollywood but into Eddie's heart as well."
A great family movie, Beethoven's Big Break will have everyone laughing as he causes his usual mischief and chaos while becoming the next big thing in movies. There are also touching moments when you see that Eddie isn't as mean as he seems and actually finds a soft spot for Beethoven. Who could resist this cuddly and loveable mutt? This will definitely become one of our family's favorite choices for movie night.
Here are a few links to check out some sneak peeks of this funny movie!
Film Clip: "Billy names Beethoven"
http://www.youtube.com/watch?v=T3L5NMos1Tc
Film Clip: "Beethoven Destroys Film Set"
http://www.youtube.com/watch?v=9aEYDKnSOnc
Film Clip: "The Director Shows Eddie the Trailer"
http://www.youtube.com/watch?v=UvYWtQb24Rs
Win it!
I have a copy of Beethoven's Big Break for one lucky winner! To enter:
Just mention in comments before midnight, Dec 23rd why you'd like to win. That's it!
A random winner will be selected and notified on Dec 24th.
The winner will have 3 days to claim their prize then another winner will be selected.
To earn more entries, you may do one or all of the following. Each one counts as an extra entry and a seperate comment must be left for each one.
Subscribe to my feed.
Blog about this giveaway with a link back here.
Place my button in your sidebar.
This giveaway is open to everyone world-wide. Good luck!
Aloha
Belinda Shaw
,
Sandra kao
, Sharon Jones,
Barbara leatham
, Callista,
Belenda
,
Diana Corlett
, Julie Terry,
Gloria Dornin
,
Valerie Mabrey
, Angie, Shae,
Belinda
,
Betty Shoemaker
,
Cathie
,
Ellen cunningham
,
Veronica sandberg
,
Melissa J Rios
,
Kim
,
Paul haddock
,
Leloni
,
Ken Robinson
,
Eloise C
,
Erica C.
,
Sue
,
Amandasue
,
Kathy Scott
,
VucjueB
,
Djp
,
Denyse
,
Carol
,
Craig
,
Tracey Byram
,
Nicole C.
, Thomas Semesky, Tami,
Sito
,
Terra Heck
,
Rebecca Graham
,
Sue Eberhardt
,
Deb Klein
,
Dawn Fiske
,
Linda
,
Linda
,
DL Stephens
, Valerie Mitchell,
Cherie J
,
Rhonda Struthers
,
Judith
,
Stacy
, Miss Blondie,
Margaret Smith
,
Christopher h
,
Sandy
,
Cori Westphal
,
Stacie
,
Marla
,
Adrienne Gordon
,
Ann Fantom
,
Deborah Wellenstein
,
Cathy Casper
,
Clenna in NH
,
Linda Peters
, Sonya Sparks,
Carolyn S
,
Lori Barnes
,
Susan varney
,
Shannon Baas
,
Amanda
,
Leona P
, Jennifer H.,
Sheila
,
Anne
, Nancy J.,
Andreah
,
Jenn S.
,
David Bertolo
,
Paula H
, Mama Zen, Stampedwithgrace,
Cheryl pasquier
,
Huguette E.
,
Angie L
,
Judith
,
Natasha Archie
,
Judy brittle
, and Grace @ Sandier Pastures