Veggie Tales: Abe and the Amazing Promise (Giveaway)
This giveaway is now closed. Thank you for your participation.
The winner is comment #39: Cindy B.
Congratulations!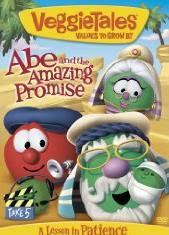 My kids have never really been exposed to Veggie Tales as much as they have to other kids shows. However, as a parent I can really appreciate the positive message that these characters instill. That's why I was really happy to have the opportunity to share Veggie Tales: Abe and the Amazing Promise with my girls.
PRODUCT DESCRIPTION
While on set filming, Bob the Tomato decides to respond to a fan's letter about "waiting", meanwhile everyone's patience is tested by spitting camels, a confused nurse, an easily distracted film crew, and a host of other laughable filming disasters! Join the comical chaos and calamity in Abe and the Amazing Promise that reminds kids that God always keeps his promises . . . even if we have to wait a while!
MY REVIEW
Since I"m more familiar with Veggies Tales than my daughters, I had to spend some time explaining to them who everyone was. They thought it was hilarious that all the characters were vegetables and really took an interest in the stories being told. Girlie Girl especially liked the part with the nurse mixing up the word patience for patients. And I have to admit it was pretty funny.
What I really like about Veggie Tales is that it has a religious platform without sounding like they're preaching to you. They talk about morals and basic common courtesy, something that all children should learn no matter what their family's religious beliefs are. I think it's a great way to get a positive message across and I love that I don't have to worry about Veggie Tales using words that other kids cartoons seem to think is acceptable but really isn't.
Veggie Tales: Abe and the Amazing Promise was a big hit with our family and it taught my girls a valuable lesson on patience. Something they definitely needed some help with.
WIN IT!
I have a review copy of Veggie Tales: Abe and the Amazing Promise to give away to one lucky winner. To enter:
Just mention in comments before midnight, Feb 26th who your favorite Veggie Tale character is. That's it!
A random winner will be selected and notified via email on Feb 27th.
The winner will then have 3 days to claim their prize.
To earn extra entries, you may do one or all of the following. Each one counts as an extra ticket but you must leave a separate comment for each one.
Subscribe to my feed.
Mention this giveaway on your blog with a link back here.
Place my button in your sidebar.
This giveaway is open to everyone world-wide! Good luck!