Parenting Is Your Highest Calling . . . and 8 Other Myths That Trap Us in Worry and Guilt (Giveaway)
This giveaway is now closed. Thank you for your participation.
The winner is Veronica G.
Congratulations!
Thanks to Pure Publicity, I had the opportunity to review Parenting Is Your Highest Calling and 8 Other Myths That Trap Us in Worry and Guilt by Leslie Leyland Fields.
FROM THE BOOK
Through a close look at God's own life as a parent as well as stories from real-life families, Fields highlights the transforming biblical truths that release parents from the grip of mistaken assumptions. Fresh, provocative insights will lead you to a deeper understanding of God and yourself–an understanding that lifts the weight of guilt and fear and frees you to love your children as God intended.
MY REVIEW
Like any other mom, I'm constantly worrying if I'm raising my children in the right way. Is it my fault if they're not happy? If they're naughty, is it a reflection on my parenting skills? Is there something wrong with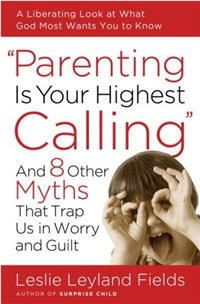 me when my kids make me so angry that I don't even want to be in the same room as them?
Well, thanks to Leslie Fields I now know that not only are these feelings normal but it's also common.
In "Parenting Is Your Highest Calling", Fields discusses various myths that a lot of parents get caught up in believing to be the truth.
My favorite chapter was Myth 4: Good Parenting Leads to Happy Children. I, for one, admit that my children are not always happy. Sometimes they want things that they just couldn't have and they were not happy about it. However, as a parent we usually know what's best for our children and sometimes our kids don't see things the same way. I agree that being a parent and making the right choices for our children will not always be the popular consensus but one day they'll look back and realize that it was all done in their best interest.
PURCHASE YOUR COPY!
Parenting Is Your Highest Calling and 8 Other Myths That Trap Us in Worry and Guilt is available at Amazon.com for only $11.19. Get your copy today!
WIN IT!
I have a copy of this book for one very lucky person. To enter:
Stop by Leslie Leyland Field's website before midnight, Jan 28th and check out the 9 myths that her book covers.
Then come back and mention in comments which myth you're most interested in reading about. That's it!
A random winner will be selected and notified via email on Jan 29th.
The winner will then have 3 days to claim their prize.
To earn extra entries, you may do one or all of the following. Each one counts as an extra ticket but you must leave a separate comment for each one.
Subscribe to my feed.
Mention this giveaway on your blog with a link back here and to Leslie Leyland Fields.
Place my button in your sidebar.
This giveaway is open to everyone world-wide! Good luck!