Chicken Soup for the Soul: Teens Talk (Giveaway)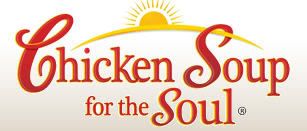 In one of the latest series of Chicken Soup for the Soul books, Teens Talk shares heartwarming stories written by kids just like yours. What a great way for children to see that they're not alone in their sometimes confusing world.
BOOK DESCRIPTIONS
Teens Talk: Middle School - The stories in this book cover topics important to the 12 to 14-year-old age range, including regrets and lessons learned, discovering the opposite sex, cliques and popularity, and new privileges and responsibilities such as jobs, cell phones, and grades.
Teens Talk: High School - Stories in this book cover topics important to the 14 to 18-year-old range, including regrets and lessons learned, dating and sex, family relationships, applying to college, and preparing for life after high school.
Teens Talk: Getting In . . . to College - The stories in the book are written by kids who have been there and want to pass on their words of support to the kids behind them. Stories cover topics such as parental and peer pressure, the stress of grades and SATs/ACTs, college applications and interviews, recruiting, disappointments and success. These stories provide moral support and encouragement to high school students going through one of the most stressful events of their lives. Parents will find Getting In…to College a great source of support and inspiration as well.
MY REVIEW
Each of these books contain 101 true stores written by real kids. It's a candid and honest look into their lives and helps parents and other kids understand the unique dynamics involved in each age group.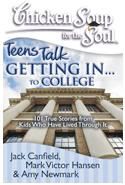 As a parent of younger children, I really appreciated the "look into the future" and what's yet to come in my daughter's lives. Everything from friendships, crushes, tough times, following your dreams, graduation, peer pressure, college interviews and entrance exams. Ahh . . . the teenage years.
What I really liked was that the stories were written by everyday kids. I think this is important in helping to make other kids relate to these experiences and see themselves in the same situations. We all know that kids face right and wrong decisions every day and Chicken Soup for the Soul: Teens Talk is a great resource tool in helping them make the right choices.
WIN IT!
One lucky winner will win their choice of any one of the Chicken Soup for the Soul: Teens Talk books listed above. To enter:
Just mention in comments before midnight, April 14th which book you'd like to win and why. That's it!
A random winner will be selected and notified via email on April 15th.
The winner will then have 3 days to claim their prize.
To earn extra entries, you may do one or all of the following. Each one counts as an extra ticket but you must leave a separate comment for each one.
Subscribe to my feed.
Mention this giveaway on your blog with a link back here and to Chicken Soup for the Soul.
Place my button in your sidebar.
This giveaway is open to US addresses. Good luck!