This giveaway is now closed. Thank you for your participation.
The winners are comment #29: Malaika and comment #15: mmw.
Congratulations!
When you start a new job, you're expected to go through training. Becoming a parent is no different. Most of us take childbirth classes, but have you thought about what happens next? As innate as parenting may seem, kids obviously don't come with an instruction manual, so sometimes it's important to invest in training for this - the most important job we will ever have - in order to be the best parent we can possibly be.
Amy McCready founded Positive Parenting Solutions, Inc. almost 5 years ago with the idea that parenting can - and should be fun! She, along with a team of instructors, has been training parents in the Raleigh, North Carolina area, and just recently developed an online course earlier this year to reach parents across the country.
The Breakthrough Course from Positive Parenting Solutions is designed for parents and teachers of children ages 1-17 to complete at their own pace. A few of the many things you'll learn from this course:
•    Why kids misbehave and what parents do to make it worse.
•    Powerful tools to get kids to listen the first time.
•    How to stop a temper tantrum in its tracks.
•    How to hold your child accountable for their behavior without you seeming like the bad guy.
•    Solutions for sibling rivalry.
The course consists of an Introduction, 6 sessions, and a Wrap Up that ties it all together. Each session builds on the previous one, with the ultimate goal being threefold:
•    To give you positive and effective tools to correct misbehaviors
•    To see a measurable improvement in your child's independence and self-sufficiency
•    To have more fun as a parent!
As I've only had access for a couple of weeks, I haven't yet completed the course, but have gone through several sessions and am enjoying it quite a bit. The site is easy to navigate, with all the sessions visible on the right sidebar so you can go back and review what you've learned at any time.  The first session, where you learn the psychology behind your child's behavior, was especially interesting to me.
Much of the information is delivered via 42 videos, which are of good quality, and start immediately upon clicking on them. Amy McCready is a pleasure to listen to. Very personable, she makes me feel like she's speaking only to ME! I also appreciate that I can pause a video and go right back to it when I have time, as long as I don't close the page. The course doesn't log you out after inactivity.
There are printable guides that go along with each video, as well as additional reading material and interactive activities. One thing I would have liked to see in this course is some kind of testing to gauge if what I've learned has stuck with me.
Enrollment in the Breakthrough Course also includes:
•    Free help line support by either phone and/or email
•    Interactive Personality Priority Survey
•    Bonus articles & ongoing email content delivered straight to your inbox on a weekly basis
It's important to note that this isn't a crash course. It takes time to change behavior, and that in itself is a huge, but worthwhile, investment. So far I've learned just how my controlling personality invites more power struggles, and am making an effort to be more open-minded about trying new techniques. I'm looking forward to tackling temper tantrums and mealtime hassles - our biggest issues at the moment. Now if I could only get my hubby to go through the course along with me, we'd all be on the same page!
TRY IT!
With kids out of school right now, this is the perfect thing for parents to work on in the summer months. You can choose between 4, 6, or 12 months of access, which range in price from $199-$239, respectively. With a 30-Day Money Back Guarantee, you can enroll with absolutely no risk. If you're not satisfied with the course, you can cancel your enrollment within 30 days and receive a 100% refund.
Positive Parenting Solutions has offered readers of An Island Review a special 10% discount on The Breakthrough Course Online. Using code: islandlife808 during the enrollment and payment process will calculate 10% off which ever length of access option is selected.
WIN IT!
Thanks to Amy McCready at Positive Parenting Solutions, I have two enrollments to give away. Each one is valued at $199 and grants you 4 months of access to the online parenting course. To enter, please visit Positive Parenting Solutions, and leave a comment on this post with a problem that you'd like to resolve with this class. Since it is all done online, this giveaway is open to everyone worldwide.
To earn extra entries:
•    Become a fan of Positive Parenting Solutions on Facebook.
•    Subscribe to An Island Review's feed.
•    Tweet about this giveaway.
•    Write about this giveaway on your blog with a link to this post and to www.PositiveParentingSolutions.com.
•    Place the Island Review button in your sidebar.
Please leave a separate comment for each entry. Two winners will be selected at random sometime after midnight on June 25th. They will then have 3 days to claim their prize.
* Winners can start the course at anytime, as long it is completed it by the end of this year.
I take my digital camera everywhere I go, even to work. As you can imagine, I take tons of photos and sometimes I forget to download all them to my computer when I get home. End result? I end up having to erase before I can take more. Well, with Photoshop.com Plus I can now save all those precious photos online as they happen.
PRODUCT DESCRIPTION
The new Photoshop.com Plus membership allows travelers anywhere access to their photos—all that's needed is a web-enabled computer. Whether in Thailand, France or Russia, travelers can upload photos to an online account, quickly edit them, and share them with others in fun and interactive ways. To top it off, uploaded photos are automatically synched back to their desktop computer to be viewed in Photoshop Elements 7 upon the traveler's return. Once at home, Plus members get the benefit of getting tutorials, templates, and seasonal art delivered directly to their Elements software as they polish their edits and add effects from their desktop.
MY REVIEW
Using this program was pretty easy. All I needed to do was plug my camera into my laptop with a USB cord, select the photos I wanted to download, then sit back and let Photoshop.com do the rest. Once that's done, you can edit your photo, add descriptions and tags, email them to your friends, and even add some cool decorations including text. There's even a handy link where you can immediately get a code to embed the photo into your website. What's really cool about this program is that they also have direct links to other various sites like photobucket, picasa, facebook, & flickr. This makes sharing so much easier and convenient.
This program would be especially useful while on vacation. Now you don't have to worry about your camera running out of memory because you can transfer all those precious photos online for future use. Plus, downloading  will make sure you have a back-up just in case something happens to your camera before you can get home. Talk about piece of mind!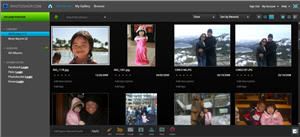 Once I got home, I just fired up my Photoshop Elements program and there were all my photos just waiting for me. From here, I could do any additional editing to make sure my finished products were just right. They also have various fun projects that can transform your pictures into works of art.
So, when you have a moment, stop by Photoshop.com Plus and check out what they have to offer. You'll be glad you did!
This giveaway is now closed. Thank you for your participation.
The winner is comment #25: Liza767
Congratulations!

We've always been big fans of JumpStart. Their educational CD-ROMs have proven to be a valuable educational tool when Girlie Girl was growing up and she still plays with them today. Now JumpStart has their very own online 3D virtual world where your child can log-on and explore the many different activities and stories they have available.
SITE DESCRIPTION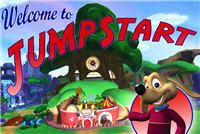 Knowledge Adventure is the leader in adventure-based 3D virtual worlds for 3-to-10 year old kids.  With our JumpStart and Math Blaster products, kids learn through endless gaming adventures in 3D virtual worlds.  By blending learning and entertainment, Knowledge Adventure's adventure-based learning inspires kids minds through immersed play.  For more than 15 years, Knowledge Adventure has set the standard in kids software by creating the finest educational products for use in the home and the classroom.
MY REVIEW
The first thing you do once you've logged-in and set-up your profile is to create a Jumpeez character. This was Girlie Girl's favorite part because she's all about fashion these days. You can personalize your character by selecting their facial features, clothing, and accessories.  If at any time you want a make-over, you can always go back and change your look. Once that's done, you're ready to go on your adventure as your Jumpeez experiences various environments and activities.
First, there's Storyland where you can visit 5 different lands aimed at kids from 3-5 years old: Neighborhood, Town Square, Beach, Pet Land & Jungle with each land having different adventures and activities. Girlie Girl's favorite was Pet Land where you can adopt a cuddly pet as your new companion.
As a member, you're also able to download addtional JumpStart programs geared for various age groups. This served as a great resouce since my girls are of different ages. This way they were both able to enjoy and benefit from JumpStart's activities.
Finally, there's an area for Parents Only where you have access to other resources and helpful articles on various paretnal topics. My favorite was "Have a Heart to Heart With Your Kids." To me, communication with my daughters is the key to being active in their lives. Even though I have no control over what goes on when I'm not around, I still want to know every detail of their day. This article gave me helpful tips on how to open the lines of communication and let my girls know that they can talk to me about anything at all.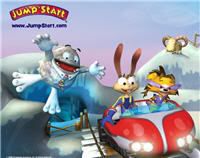 We received a trial membership to try out and Girlie Girl loved it. In fact, she asked to play it every.single.day. Her favorite activity was the Scrapbook where she was able express her creative side designing her very own scrapbook creations. She also liked earning Jump Stars in her quest to make it to the Hall of Fame. Jump Stars gave her a sense of accomplishment and encouraged her to keep going.
What I liked best about JumpStart 3D Virtual World is that there were no CD-ROMs to install. I just bookmarked the site so that Girlie Girl could access it any time she wanted. Being able to just log on the computer was especially convenient when she was visiting Grandma or Aunty and wanted to play on their computers as well.
So, if you're looking for a fun and educational website that's also trusted my millions of parents around the world, stop by JumpStart 3D Virtual World and give a try yourself. I'm sure you'll agree that JumpStart.com is a valuable educational tool.
WIN IT!
JumpStart.com has generously donated a free 3-month membership to their amazing 3D world. To enter:
Stop by JumpStart.com before midnight, March 6th and check out what they have to offer.
Then come back and mention in comments which aspect of their website most interests you. That's it!
A random winner will be selected and notified via email on March 7th.
The winner will then have 3 days to claim their prize.
To earn extra entries, you may do one or all of the following. Each one counts as an extra ticket but you must leave a separate comment for each one.
Subscribe to my feed.
Mention this giveaway on your blog with a link back here and to JumpStart.com.
Place my button in your sidebar.
This giveaway is open to anyone with access to JumpStart.com. Good luck!
In this busy day and age, we don't always have a chance to watch what we want when we want. And unfortunately, not everyone can afford Tivo or DVRs. That's why Fancast is such a great option for everyone!
FROM THE SITE
Fancast.com is one all-inclusive entertainment destination allowing you to watch, find, discover, and manage your favorite TV shows and movies with over 5,000 free streaming current and classic episodes to choose from. The site has a vast variety of networks including ABC, NBC, FOX, WB, and CBS.
MY REVIEW
I stopped by the site to see what it was all about and was impressed with the selection of shows available. They have all my favorites . . . Brothers & Sisters, Grey's Anatomy, and even The Bachelor! They also have free movies for the whole family! And did I mention it's free?
This site is such a great option for me because I can't always watch my favorite shows around my daughters. This way I can wait until they're asleep, or better yet wait till I'm on a layover, and catch up with all my must-see tv. The videos loaded really quickly and the visual and sound quality was just like watching real television.
I used to visit the various online network sites but having them all in one place makes it so much easier. And I'm all about easier! Stop by Fancast today!
I'm a total organizing junkie. I love calendars, planners, worksheets, and to-do lists. And since this is the age of technology, why not stay organized online? It's the best way to share information with people who live across the world, in your neighborhood, and right in your own home. That's why I was so intrigued with Qlubb.
COMPANY DESCRIPTION
Qlubb is a web-based group utility that enables real-world groups to easily connect, share and get stuff done. Qlubb brings all aspects of group interaction to one simple and intuitive place. With event calendaring, sign-up sheets, photo sharing, member rosters, file sharing, task reminder service, and bulletin boards, Qlubb provides all the functions needed to easily and actively participate within a group.
MY REVIEW
I'm in charge of a PTA committee in Girlie Girl's school. With over 30 members, sometimes it's hard to keep everyone up-to-date on what's going on. I decided to give Qlubb a try and see how it worked.
Registration was easy and free! All I had to do was think of a Qlubb name, enter some information, and I was up and running in no time.  The first thing I did was input information into the calendar: meetings, play dates, deadlines, and events. Then I uploaded some pictures I took from our last outing. You know when everyone asks you to make copies of the photos you've taken? This is a great way to share them with everyone at the same time!
The files section allowed me to share the latest club minutes with those who couldn't attend and the message section served as sort of a group forum. Lastly, I sent out invitations to all the group members to join so they could have access themselves. So far 25 out of 30 members have joined.  Looks like they all agree that Qlubb is a wonderful way to stay in touch and share vital information to those who need it.
Thank you to Team Mom &  Mom Fuse for this review opportunity.
Next Page »