When it comes to aluminum foil, usually only one name comes to mind: Reynolds Wrap. So when they introduced Reynolds Wrap Aluminum Foil made from 100% Recycled Aluminum, I couldn't wait to give it a try!
As more and more Americans look for simple ways to become more environmentally friendly, the kitchen truly is the easiest place to start.
With that in mind, Reynolds has introduced Reynolds Wrap® Foil from 100% Recycled Aluminum – a versatile and economical tool to get the job done in the kitchen, and perfect for people looking for simple ways to show they care about the environment.
Food-safe foil made from a

mix of pre and post consumer aluminum.

Strength and durability you've come to expect from Reynolds Wrap®.

Available in Standard and Heavy Duty strengths.

The packaging and core are made from 100% recovered paper and the inks used on the product packaging are water-based.
I was fortunate to receive a roll of Heavy Duty Reynolds Wrap Foil from 100% Recycled Aluminum (ARV $2.99/35 square-foot roll). As expected, the Heavy Duty Recycled Foil felt thicker than the standard "regular" Reynolds Wrap Foil, which I normally use, and it also looked shinier, but it worked just as well as "regular" foil!
I used the Reynolds Wrap 100% Recycled Aluminum Foil primarily to cover cooked meals, but I also often used it to bake. Most recently I used it to line a baking pan when I made lemon bars. Once my lemon bars were done, I simply lifted the entire sheet of foil off of the pan and placed it on a cutting board. The foil didn't rip or break while transferring my lemon bars from the pan to the cutting board, and I was very happy that I didn't need to wash the baking pan afterward!
I really couldn't tell any difference between "regular" Reynolds Wrap Foil and "recycled" Reynolds Wrap Foil in terms of quality and durability, but it's nice to know that the option is available for those of us who want a trusted brand in aluminum foil and want to help the environment at the same time.
Shop: You can purchase Reynolds Wrap Foil from 100% Recycled Aluminum at various retailers nationwide.
Thank you to Reynolds Packaging Group for the providing the product(s) for review and/or giveaway.
Gem at Sage and Savvy

Before I say anything about Skin Free I want you to see the following photo.
These are the only Skin Free Extra Moisturizing Soap's I could find in our entire valley. We love this soap!! We were so happy with it I forgot to order more and we didn't want to run out so…I drove to three different Walgreen's to buy all they had. If I had thought ahead, I could have bought them from the Skin Free website for the same price and received free shipping with an order of $25.00 or more. I have since (of course) ordered more!!
Product descriptions for my favorites:

Extra Moisturizing Soap & Shampoo Bar - Awarded the National Eczema Association Seal of Acceptance August, 2008, our soap is like no others. It's rich, creamy lather will sooth and moisturize. Perfect for delicate, sensitive, or very dry skin. Helps with eczema, psoriasis, dermatitis, and acne.

Whipped Tamanu Body Butter - The Polynesians discovered the healing and protective properties of Tamanu oil centuries ago. When the French arrived in Polynesia, they were fascinated by the islanders use of this oil for everything from minor skin abrasions to severe sunburn, and major skin infections. French scientists discovered the oil contains a unique fatty acid that stimulates skin growth. Tamanu also possesses antibacterial and anti-inflammatory properties. We have combined the delicious Tamanu oil with Organic Extra Virgin Olive and rich Shea to make a remarkable whipped body butter to help sun-damaged skin, eczema, psoriasis, and reduce scarring.

Niaouli Butter Stick - The Melaleuca family contains three notable trees that contribute to the healing world: Tea tree, Cajeput, and Niaouli. After discovering this oil in the South Pacific region, the French used Niaouli in antibacterial spray to disinfect hospital wards. Niaouli Butter Stick is very effective for chapped or rough skin. Our clients tell us that it has a great effect against psoriasis and eczema breakouts. We have combined the aromatic Niaouli oil with the other healing oils of Olive, Sweet Almond, Cocoa Butter and Shea in a soy base to make a convenient butter for easy application on your skin problem areas. Because some people find the aroma of Niaouli too strong, we temper it with a dash of Madagascan Vanilla.

 
My review: I love Skin Free and my husband loves Skin Free!
We try our best to live green and use organic products. Skin Free is exactly what we like to buy and use on our bodies. Our favorite is the Extra Moisturizing soap. I love the lather. I use it with a bathing puff and my husband uses it with a wash cloth. Two different methods with the same wonderful results!
I have very dry skin and I've tried just about every product sold to remedy the dry feeling I have after bathing. The moisturizing Niaouli Butter Stick is quite remarkable. Much like a coco butter stick, the Niaouli Butter Stick rubs on anywhere you'd like. It's great for hands, feet and elbows however I keep it in my hand bag and use it everywhere (and anywhere) I need it.
The After Shower Moisture Spritz is for spraying on immediately after showering for maximum hydration. As you towel dry, the oils soak deep into your skin to leave you free from dry, itching skin all day, with no greasy feeling afterward.
Skin Free has a product to suit most every one's needs. From products for a beautiful body to facial care, Skin Free has it all. I love it when something comes along and make my life easier and makes me feel better and Skin Free has done just those things.
My Healthy Cooking Coach
Whenever I can't figure out what to make for lunch or dinner, I now turn to My Healthy Cooking Coach for the Nintendo DS (ARV $29.99, Ubisoft, Rated E) to get some healthy, delicious meal ideas.
What does Pad Thaï, Ratatouille and Salmon Gravlax sound like? Most likely dishes you would like to prepare but you lack time or recipe ideas. With My Healthy Cooking Coach for Nintendo DS, you can now bring all those delicious and healthy dishes onto your own table.
My Healthy Cooking Coach helps you prepare new recipes while expanding your cooking skills and learning more about how to cook healthier. It takes you through each recipe, telling you what to do step by step making cooking less time consuming.
My Healthy Cooking Coach provides also a large selection of useful tools such as the virtual recipe finder and the shopping list that will simplify the cooking process. It also provides useful nutritional tips for every recipe in the game which have been developed by a nutritionist
Based on information you provide, such as your eating and cooking habits, your taste preferences, and the type of equipment you own, My Healthy Cooking Coach offers recipe ideas from a collection of over 200 that you may enjoy. The very first Daily Suggestion recipe I was given was for Quesadillas, and I immediately thought that My Healthy Cooking Coach did a great job finding a recipe based on my input because I actually love Quesadillas (Little Music Man Loves them too) and make them all the time since they're quick, easy, and very versatile.
More often then not, the recipe featured in the Daily Suggestion was something that I'd actually try or I already make. Sometimes though, I'd have to view other suggestions because a recipe simply didn't appeal to me, such as Cucumber Raita.
You can also search for recipes on your own. I look through the Meals category most often for recipe ideas. You'd think Desserts would be the category I refer to most often because of my major sweet-tooth, but based on my preferences, a lot of the dessert recipes were for smoothies, which I don't usually have for dessert.
My Healthy Cooking Coach is more than just an "electronic recipe box." There are tools to create shopping lists and to convert measurements, and there is an abundance of information on terms and techniques. There's a really nifty tool with which you provide up to 3 ingredients you have on hand, and My Healthy Cooking Coach will offer you recipes that include those ingredients.
My favorite feature in My Healthy Cooking is actually the game in which you "prep" and "cook" in a virtual kitchen. The game has really helped me a lot in trying to be better prepared when it comes to cooking. Too many times I can't find the right measuring cup or spoon, or even worse—I realize I don't have a certain ingredient and can't even finish the recipe. Although you'd consider it simply common sense to get everything prepped before hand, sometimes I just don't, and the game helped to prove that you really are more efficient in the kitchen when you're prepared.
If you own a Nintendo DSi System, My Healthy Cooking Coach includes ten exclusive recipes, and you can personalize your profile even more.
Although I do wish there were more recipes overall, My Healthy Cooking Coach is a fun and practical game that offers you handy tools and great tips that will help you create healthy and delicious meals that you and your entire family will enjoy.
Shop: You can purchase My Healthy Cooking on Amazon.com, or at various other retailers online and nationwide.
Thank you to Ubisoft for providing the product(s) for review and/or giveaway!
Gem at Sage and Savvy



SunFeather Natural Soap Company believes that making soap and using handmade soap is a simple pleasure. Started from a farmhouse kitchen many years ago, the company now produces 4,000 pounds of high quality soap each week. That's a lot of soap! In addition to bar soap, SunFeather also makes liquid soaps, shampoos, lip and skin balms, body scrubs, candles, a Bug Off line, and a variety of foot care products, including soaks, scrubs, and creams, and more. They even sell fun bath-time treats for kids!
SunFeather Natural Soap Company sent me a couple of products to try out - a Bug Bite Soother and a bar of their Lemon Verbena soap.
Each handcrafted bar soap is made with the finest olive, coconut and palm oils and infused with skin-soothing botanicals, butters and essential oils to leave skin soft and clean. The Lemon Verbena Floral & Herbal soap came beautifully wrapped in a pretty fabric. Infused with the essential oils of lemon peel and lemongrass, grapefruit seed extract and lemon verbena, it has a wonderful citrus fragrance and creates lots of suds. It only leaves a delicate scent on your skin, though, which I appreciate. In addition to the Floral & Herbal Soap, there are several other varieties, including Eco Soap, Farmer's Market Soap, Gardener, Worker & Chef, Hemp, Organic, ManCare, Healing and Wett Giggles, that sell for $4-$10.
The Bug Bite Soother is part of SunFeather's line of Bug Off Insect Deterrents. It's a roll-on liquid that helps sooth the itch and sting from pesky bug bites. Made with witch hazel, peppermint oil, tea tree oil, and camphor, it definitely feels fantastic as soon as it touches your skin! You swipe on just a little and instantly feel the cooling properties of the peppermint oil and witch hazel. The tea tree oil relieves the swelling of the bite, and the camphor helps with the itching. It's a perfect formula! Since it comes in a small container, it's easy to throw in your pocket or your purse. The Bug Off collection also includes soap and shampoo bars, organic Bug Rub, spritzer, oil, a soy candle, wipes and Little Bugger Oil. Priced between $6-$15.99, everything in this line is DEET-free, and made with a special blend of all natural essential oils like rosemary, citronella, geranium and lemongrass.
To learn more about Sunfeather Natural Soap Company or to make a purchase, please visit SunFeather.com.
Four Wives
With a long weekend to look forward to, I knew I'd pack the new book, Four Wives in my suitcase.
Book Description:
Four Wives is the first novel for Wendy Walker, a former litigator turned stay at home mom…….someone whom I could definitely relate to.  The book focuses on four wives in wealthy suburb, each dealing with their own issues.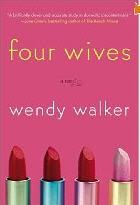 My Review:
I love a good summer book - one you can finish during a long weekend.  Four Wives is perfect to grab for a weekend getaway or just hanging out by the pool. 
While the setting of the story is in an extremely wealthy suburb, the issues faced by each character could happen just about anywhere.  I found myself drawn to one character yet despising another.  Overall, the point is well made that you never know what is going on in other people's lives, even if they are your closest friends.  Secrets are hidden.  Lies are told.  People let you see what they want you to see and nobody has a perfect life.
All this makes for an intriguing book about these suburban friends - betrayal, abuse, family issues, and love.  I look forward to what Wendy Walker will bring us later this year with her next book, Social Lives.
 Debra traded in high-powered suits and high-heeled shoes for a new role as mommy–crayon enthusiast, storyteller, and kisser of boo-boo's. You'll find her helping families at A Frugal Friend, where she teaches others how to reduce their expenses through coupons, rebates, freebies and deals.