I'm always on the lookout for kids clothing that are not only functional but shares a positive message. So when I was introduced to Bee-Tees, I knew I found exactly what I was looking for.
COMPANY DESCRIPTION
Communication is the key in any relationship. Bee-Tees provide a teachable moment of communication between parents and children. With the environment in which we find ourselves today, parents should take responsibility to teach their children about positive character. In our hectic lives it can sometimes be difficult to find the time or opportunity to start these conversations about character. Kindness, honesty and fairness must come back into our businesses, our government and our lives. We are responsible for teaching our children, not friends, television or movies. Bee-Tees is a vehicle for parents to use to start a conversation about these traits.
MY REVIEW
We received their Bee Kind Tee in Blossom and loved it! This 100% cotton shirt was not only soft and comfortable but the silk-screened image was bright and colorful. Girlie Girl couldn't wait to wear it.
What I liked best was the positive message that the shirt conveys not only to my daughters but to everyone who sees it. I know that if I saw a shirt that said "Bee Yourself" or "Bee Inspired" it would make me stop a moment and reflect on those character traits.
These shirts are available in a variety of colors, designs, and even sizes. Everyone from babies to adults can sport their very own Bee-Tees. And how cute would it be if everyone wore a Bee-Tees on your next family outing? I guarantee that you'll get tons of compliments!
Stop by Bee-Tees today!
Back to School shopping is in full swing…..which means many of us will start shopping for school lunches. The R.W. Knudsen Family brand has created a perfect addition to any lunch box - Sensible Sippers Organic Juice Boxes.

Product Description:
R.W. Knudsen Family brand has partnered with the Berenstain Bears for the launch of Sensible Sippers Organic Juice Boxes. The Sensible Sippers are 100% certified organic and come in a variety of fun flavors:
Fruit Punch




Banana




Apple




Mixed Berry
My Review:
Thanks to R.W. Knudsen Family, I received Apple and Mixed Berry Sensible Sippers to try out. Of course, they were an immediate hit with my little one - she easily recognized Mama Bear (apple) and Sister Bear (mixed berry) from the Berenstain Bears. Anything having to do with The Berenstain Bears has to be great!
Just like most juice boxes, these are extremely convenient for travel or school lunches. The boxes are sturdy and have a completely sealed straw attached. The flavors are great, and I'm looking forward to trying out the Banana flavor in the future - sounds yummy!
Kids always love juice boxes, but I was impressed as a parent. While my little one doesn't need school lunches yet, this review had me thinking of what I would pack in her lunch. Here's what I really loved about Sensible Sippers:
100% certified organic - we prefer organic produce, so this is a huge factor for me
Sensible Sippers are 50% juice and 50% water
(Funny story - My little one has just turned 2 and we are starting to drink juice. I've always heard that you should dilute the juice. So when I got the Sensible Sippers, I diluted our first one in a cup. HaHa It didn't taste quite right - that's because they've already diluted it for us.)
No added sugar, artificial flavors or preservatives
40% less calories than regular juice boxes
4.23 oz juice box - perfect size
Try them out this fall in lunch boxes or just at home to have while playing outside. Make it an even sweeter deal by printing off a $1.00 coupon off an 8-pk of Sensible Sippers. Coupon expires 9/30/09
Debra traded in high-powered suits and high-heeled shoes for a new role as mommy–crayon enthusiast, storyteller, and kisser of boo-boo's. You'll find her helping families at A Frugal Friend, where she teaches others how to reduce their expenses through coupons, rebates, freebies and deals.
This giveaway is now closed. The winner is comment #74: Christi! Congratulations!
Growing up, Science was never one of  my favorite subjects. However, I may have felt differently if Sid the Science Kid was around back then.
SHOW DESCRIPTION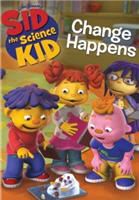 "Sid the Science Kid", The Jim Henson Company's first series for PBS KIDS that features a practical in-school science curriculum, uses music and humor to celebrate children's natural curiosity about science in everyday life. The energetic and inquisitive Sid starts each episode with a new question ("Why are my shoes shrinking?" "Why do bananas get mushy?") and embarks on a fun-filled day of finding answers with the help of family and friends.
MY REVIEW
We recently had the opportunity to review 2 new Sid the Science Kid DVDs: The Bug Club & Change Happens.
In Change Happens, we join Sid and the rest of the gang as they discuss why things change when exposed to time, temperature, and the environment. Girlie Girl's favorite episode was My Mushy Banana where the class talked about how different foods decay. It was pretty cool to see how elapsed time affected a perfect pumpkin into a pile of moldy mush. Baby Bug liked My Shrinking Shoes because it helped her to understand how her body is growing every day even though she can't really see it.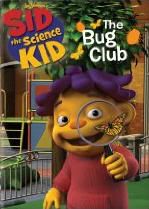 In The Bug Club, Sid takes a look at his backyard and wonders about all the things in it: leaves, dirt, bugs, animals, and more. Our family's favorite episode is Hello Doggie because we've all wondered from time to time if animals can understand us. Hello Doggie teaches us that all animals communicate in their own unique way by using body language, sounds, and barking!
Both DVDs also included a bonus disk that includes full stories from other great children shows such as WordWorld, Dive Olly Dive!, Hurray for Huckle!, Tine Planets, Will & Dewitt, Animal Atlas, Hermie and Friends, Pocoya and Hopia.
Overall, we feel Sid the Science Kid is a great educational show for children. It teaches them the reasoning behind the way things work and makes it fun in the process. I especially like when they have Lab Time where their teacher asks them questions and encourages the kids to use critical thinking to figure out the answers. Education and fun all together in one show! Expose your children to the wonders of Sid the Science Kid and watch them learn to love Science!
WIN IT!
I have both Sid the Science Kid DVD episodes to give away to one lucky winner! To enter:
Just mention in comments before midnight, Aug 6th why you'd like to win this DVD set. That's it!
A random winner will be selected and notified via email shortly thereafter.
The winner will then have 3 days to claim their prize.
To earn extra entries, you may do one or all of the following. Each one counts as an extra ticket but you must leave a separate comment for each one.
Subscribe to my feed.
Follow me on Twitter.
Place my button in your sidebar.
Mention this giveaway on your blog with a link back here.
This giveaway is open to US addresses. Good luck!
These DVDs were provided to me free to charge by PBSKids for the purpose of reviewing them and expressing my unbiased thoughts. By entering this giveaway, you're acknowledging that you've read, understood and agreed to my diclosoure policy.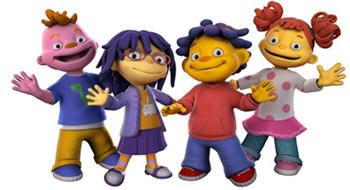 This giveaway is now closed. The winner is comment #34: Susan Varney. Congratulations!
I have to admit that I've never heard of Dive Olly Dive! before. However, I knew that my girls would enjoy watching anything having to do with the ocean.
SHOW DESCRIPTION
Dive Olly Dive follows the adventures of Olly, a young submarine-in-training, and Beth, his best friend and fellow sub-in-training. Stationed at the Special Underwater Research Facility (S.U.R.F.) under the guidance of Diver Doug, the young subs explore their spectacular underwater world.
Joining Olly and Beth are Skid, Doug's sleek transport vehicle; Brandt, a cantankerous hermit crab who imagines himself as a pirate; UMA, an eight-appendaged Underwater Maintenance Assistant; Ranger, a tiny cowboy seahorse who wrangles his herd of squid; Shankley, the Scottish sea crane who spins tales of the deep seas; Suzy, the awesome aerobatic seas plane; and Luseal, the fun-loving, athletic seal.
OUR REVIEW
Ship Shape Sub included 5 underwater adventures that my girls loved: Haunted Ship Prank, Less is More, Navigation Consternation, Follow That Lobster, & Don't Tell Beth.
We really enjoyed the animation and story lines. The characters are bright, colorful, and very entertaining. Our favorite character was Ranger the Cowboy Seahorse. He seemed to have a good head on his shoulder and always weighing right from wrong.
However, what we were impressed by the most are the positive messages that it delivers. This show teaches children about helpfulness, respect, cooperation, and honesty. It also helped Girlie Girl learn about listening to other's point of views and to not judge people by the way they look.
Overall, Ship Shape Sub is great entertainment for the whole family! It helped my girls learn valuable life lessons while introducing them to the wonders of ocean life.
WIN IT!
Ship Shape Sub is scheduled to be released on August 4th, however, you can win a copy right here! To enter:
Just mention in comments before midnight, Aug why you'd like to win this. That's it!
A random winner will be selected and notified via email shortly thereafter.
The winner will then have 3 days to claim their prize.
To earn extra entries, you may do one or all of the following. Each one counts as an extra ticket but you must leave a separate comment for each one.
Subscribe to my feed.
Follow me on Twitter.
Mention this giveaway on your blog with a link back here and to Dive Olly Dive.
Place my button in your sidebar.
This giveaway is open to US  addresses. Good luck!
This review was written as part of a program for NCircleEntertainment who provided the DVDs for review and giveaway. By entering this giveaway, you are acknowledging that you have read, understood, and agreed to my disclosure policy.
Recently, I was encouraged by my cardiologist to start doing Yoga. Yoga….Isn't Yoga something that new age hippies in India do? Well, I really like new age music, traveling to India is quite intriging and…I trust my doctor so
I tried Yoga and found I really like it.
That is why I'm very excited about the "Yoga Buddies - Bedtime Stories" DVD for children.
Product Description: Yoga Buddies is dedicated to making a difference for kids health and well being through the practice of yoga. We are proud to say we have taught in more than 45 schools and organizations, and our products and class have reached more than 3,000 kids.
Help your kids quiet their mind and relax their body as they prepare for a good night sleep with Yoga Buddies Bedtime Stories. A unique DVD combining the tradition of storytelling before bed with the calming practice of yoga.
My Review: The DVD has three stories that are narrated by Yoga Buddies creator Denay Di Virgilio. As Danay reads the original and adventurous stories aloud, her young yoga buddies, Lucy, Cole, Zach, Amelia and Phoebe teach us different yoga poses.
I along with my three grandchildren found Yoga Buddies Bedtime Stories delightful and relaxing. Interestingly, we all seemed to have a different favorite story. Each story is about 15 minutes long and full of yoga poses from the flamingo to the owl and the starfish.
The Yoga Buddies website lists the locations of the schools and also the information on classes and summer camps. There's also a new yoga pose posted monthly.
Swan Dive into Forward Fold
Start standing with feet hip distance apart, hands are together at the heart.  Inhale hands up over the head. Exhale as arms float down, hinging at the hips and the upper body bends forward.  The fingers are reaching for the floor.  There can be a slight bend in the knees. Hang here either with your fingers reaching for your toes or hold onto your elbows and let gravity work its magic.  Allowing your upper body to relax and feeling the stretch in your legs take several long, deep breaths in and out. Come up slowly to a standing position.
The great thing about Yoga Buddies is you don't have to live near any of the schools to take a class. You can do Yoga Buddies in the comfort of your own home.
You can purchase the DVD here and here.
As Danay says on the DVD, "NamaStay" which means "I respect and honor you!"
Next Page »