Before I say anything about Skin Free I want you to see the following photo.
These are the only Skin Free Extra Moisturizing Soap's I could find in our entire valley. We love this soap!! We were so happy with it I forgot to order more and we didn't want to run out so…I drove to three different Walgreen's to buy all they had. If I had thought ahead, I could have bought them from the Skin Free website for the same price and received free shipping with an order of $25.00 or more. I have since (of course) ordered more!!
Product descriptions for my favorites:

Extra Moisturizing Soap & Shampoo Bar - Awarded the National Eczema Association Seal of Acceptance August, 2008, our soap is like no others. It's rich, creamy lather will sooth and moisturize. Perfect for delicate, sensitive, or very dry skin. Helps with eczema, psoriasis, dermatitis, and acne.

Whipped Tamanu Body Butter - The Polynesians discovered the healing and protective properties of Tamanu oil centuries ago. When the French arrived in Polynesia, they were fascinated by the islanders use of this oil for everything from minor skin abrasions to severe sunburn, and major skin infections. French scientists discovered the oil contains a unique fatty acid that stimulates skin growth. Tamanu also possesses antibacterial and anti-inflammatory properties. We have combined the delicious Tamanu oil with Organic Extra Virgin Olive and rich Shea to make a remarkable whipped body butter to help sun-damaged skin, eczema, psoriasis, and reduce scarring.

Niaouli Butter Stick - The Melaleuca family contains three notable trees that contribute to the healing world: Tea tree, Cajeput, and Niaouli. After discovering this oil in the South Pacific region, the French used Niaouli in antibacterial spray to disinfect hospital wards. Niaouli Butter Stick is very effective for chapped or rough skin. Our clients tell us that it has a great effect against psoriasis and eczema breakouts. We have combined the aromatic Niaouli oil with the other healing oils of Olive, Sweet Almond, Cocoa Butter and Shea in a soy base to make a convenient butter for easy application on your skin problem areas. Because some people find the aroma of Niaouli too strong, we temper it with a dash of Madagascan Vanilla.

 
My review: I love Skin Free and my husband loves Skin Free!
We try our best to live green and use organic products. Skin Free is exactly what we like to buy and use on our bodies. Our favorite is the Extra Moisturizing soap. I love the lather. I use it with a bathing puff and my husband uses it with a wash cloth. Two different methods with the same wonderful results!
I have very dry skin and I've tried just about every product sold to remedy the dry feeling I have after bathing. The moisturizing Niaouli Butter Stick is quite remarkable. Much like a coco butter stick, the Niaouli Butter Stick rubs on anywhere you'd like. It's great for hands, feet and elbows however I keep it in my hand bag and use it everywhere (and anywhere) I need it.
The After Shower Moisture Spritz is for spraying on immediately after showering for maximum hydration. As you towel dry, the oils soak deep into your skin to leave you free from dry, itching skin all day, with no greasy feeling afterward.
Skin Free has a product to suit most every one's needs. From products for a beautiful body to facial care, Skin Free has it all. I love it when something comes along and make my life easier and makes me feel better and Skin Free has done just those things.


SunFeather Natural Soap Company believes that making soap and using handmade soap is a simple pleasure. Started from a farmhouse kitchen many years ago, the company now produces 4,000 pounds of high quality soap each week. That's a lot of soap! In addition to bar soap, SunFeather also makes liquid soaps, shampoos, lip and skin balms, body scrubs, candles, a Bug Off line, and a variety of foot care products, including soaks, scrubs, and creams, and more. They even sell fun bath-time treats for kids!
SunFeather Natural Soap Company sent me a couple of products to try out - a Bug Bite Soother and a bar of their Lemon Verbena soap.
Each handcrafted bar soap is made with the finest olive, coconut and palm oils and infused with skin-soothing botanicals, butters and essential oils to leave skin soft and clean. The Lemon Verbena Floral & Herbal soap came beautifully wrapped in a pretty fabric. Infused with the essential oils of lemon peel and lemongrass, grapefruit seed extract and lemon verbena, it has a wonderful citrus fragrance and creates lots of suds. It only leaves a delicate scent on your skin, though, which I appreciate. In addition to the Floral & Herbal Soap, there are several other varieties, including Eco Soap, Farmer's Market Soap, Gardener, Worker & Chef, Hemp, Organic, ManCare, Healing and Wett Giggles, that sell for $4-$10.
The Bug Bite Soother is part of SunFeather's line of Bug Off Insect Deterrents. It's a roll-on liquid that helps sooth the itch and sting from pesky bug bites. Made with witch hazel, peppermint oil, tea tree oil, and camphor, it definitely feels fantastic as soon as it touches your skin! You swipe on just a little and instantly feel the cooling properties of the peppermint oil and witch hazel. The tea tree oil relieves the swelling of the bite, and the camphor helps with the itching. It's a perfect formula! Since it comes in a small container, it's easy to throw in your pocket or your purse. The Bug Off collection also includes soap and shampoo bars, organic Bug Rub, spritzer, oil, a soy candle, wipes and Little Bugger Oil. Priced between $6-$15.99, everything in this line is DEET-free, and made with a special blend of all natural essential oils like rosemary, citronella, geranium and lemongrass.
To learn more about Sunfeather Natural Soap Company or to make a purchase, please visit SunFeather.com.
Courtesy of The Medical News:
One year after giving birth, women were less likely to have the most dangerous kind of obesity if they had been given probiotics from the first trimester of pregnancy, found new research that suggests manipulating the balance of bacteria in the gut may help fight obesity.
Probiotics are bacteria that help maintain a healthy bacterial balance in the digestive tract by reducing the growth of harmful bacteria. They are part of the normal digestive system and play a role in controlling inflammation. Researchers have for many years been studying the potential of using probiotic supplementation to address a number of intestinal diseases. More recently, obesity researchers have started to investigate whether the balance of bacteria in the gut might play a role in making people fat and whether adjusting that balance could help.
"The results of our study, the first to demonstrate the impact of probiotics-supplemented dietary counselling on adiposity, were encouraging," said Kirsi Laitinen, a nutritionist and senior lecturer at the University of Turku in Finland who presented her findings on Thursday at the European Congress on Obesity. "The women who got the probiotics fared best. One year after childbirth, they had the lowest levels of central obesity as well as the lowest body fat percentage."
"Central obesity, where overall obesity is combined with a particularly fat belly, is considered especially unhealthy," Laitinen said. "We found it in 25% of the women who had received the probiotics along with dietary counselling, compared with 43% in the women who received diet advice alone."
In the study, 256 women were randomly divided into three groups during the first trimester of pregnancy. Two of the groups received dietary counselling consistent with what's recommended during pregnancy for healthy weight gain and optimal foetal development. They were also given food such as spreads and salad dressings with monounsaturated and polyunsaturated fatty acids, as well as fibre-enriched pasta and breakfast cereal to take home. One of those groups also received daily capsules of probiotics containing Lactobacillus and Bifidobacterium, which are the most commonly used probiotics. The other group received dummy capsules. A third group received dummy capsules and no dietary counselling. The capsules were continued until the women stopped exclusive breastfeeding, up to 6 months.
The researchers weighed the women at the start of the study. At the end of the study they weighed them again and measured their waist circumference and skin fold thickness. The results were adjusted for weight at the start of the study.
Central obesity - defined as a body mass index (BMI) of 30 or more or a waist circumference over 80 centimetres - was found in 25% of the women who had been given the probiotics as well as diet advice. That compared with 43% of the women who got dietary counselling alone and 40% of the women who got neither diet advice nor probiotics. The average body fat percentage in the probiotics group was 28%, compared with 29% in the diet advice only group and 30% in the third group.
Laitinen said further research is needed to confirm the potential role of probiotics in fighting obesity. One of the limitations of the study was that it did not control for the mothers' weight before pregnancy, which may influence how fat they later become.
She said she and her colleagues will continue to follow the women and their babies to see whether giving probiotics during pregnancy has any influence on health outcomes in the children.
"The advantage of studying pregnant women to investigate the potential link between probiotics and obesity is that it allows us to see the effects not only in the women, but also in their children," she said. "Particularly during pregnancy, the impacts of obesity can be immense, with the effects seen both in the mother and the child. Bacteria are passed from mother to child through the birth canal, as well as through breast milk and research indicates that early nutrition may influence the risk of obesity later in life. There is growing evidence that this approach might open a new angle on the fight against obesity, either through prevention or treatment."
MY REVIEW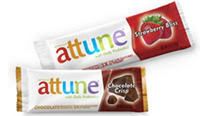 I had the opportunity to review three of Attune Probiotic Bar's new flavors - Coffee Bean Dark Chocolate, Raspberry Dark Chocolate, and Almond Milk Chocolate - and let me tell you, they were delicious. I would have never guessed that these bars were actually good for me and was providing me with calcium and fiber for better health. It's definitely a prescription that I wouldn't mind refilling over and over again!
Get yours in the yogurt case in your local grocery store.
This giveaway is now closed. Thank you for your participation.
The winner is comment #148: Jason
Congratulations!
For those who shampoo every day, you know how this can sometimes leave your hair damaged. Well, Votre Vu has taken out many of the villains that prey upon your hair and scalp condition, and imported a whole team of superheroes to protect and defend your lovely locks. "To hydrate, restore, balance and protect" is their motto.
PRODUCT DESCRIPTION
The shampoo hydrates, restores, balances and protects adding a boost in volume and shine. The shampoo is an effective yet gentle cleanser which eliminates build up, impurities and toxins without stripping your hair's natural oils. It does not contain sodium laurel sulfates. Cheveux Heureux Shampoo Riche leaves your hair more manageable and soft to the touch. For more information please visit: www.VotreVu.com.
WIN IT!
Votre Vu has generously donated their Cheveux Heureux Shampoo Riche to one lucky winner! To enter:
Just mention in comments before midnight, June 26th and mention why you'd like to win this. That's it!
A random winner will be selected and notified via email shortly thereafter.
The winner will then have 3 days to claim their prize.
To earn extra entries, you may do one or all of the following. Each one counts as an extra ticket but you must leave a separate comment for each one.
Subscribe to my feed.
Follow me on Twitter.
Mention this giveaway on your blog with a link back here and to Votre Vu.
Place my button in your sidebar.
This giveaway is open to US addresses. Good luck!
This giveaway is now closed. Thank you for your participation.
The winner is comment #104: Tracy Davis.
Congratulations!
A while ago I had the opportunity to review Lash Food and found it to be an amazing product. My skimpy little lashes need all the help they can get and Lash Food has really did a great job in making my lashes look fuller and longer.
PRODUCT DESCRIPTION
LashFood is an all natural eyelash and eyebrow conditioning stimulator that provides you with fuller, longer, darker, and stronger lashes. LashFood is formulated using the highest grade natural ingredients including Biotin, an essential vitamin, Arginine, a natural amino acid, and root and herbal extracts. The newest innovation of JB Cosmetics, LashFood is created by Jane Kim. JB Cosmetics is a well known cosmetic manufacturer that specializes in eyelash products and stands for sophistication and beauty. For more information please visit: www.lashfood.com.
WIN IT!
Here's another opportunity for you to win Lash Food for yourself! To enter:

Just mention in comments before midnight, June 23rd and mention why you'd like to win this. That's it!
A random winner will be selected and notified via email shortly thereafter.
The winner will then have 3 days to claim their prize.
To earn extra entries, you may do one or all of the following. Each one counts as an extra ticket but you must leave a separate comment for each one.
Subscribe to my feed.
Follow me on Twitter.
Mention this giveaway on your blog with a link back here and to Lash Food.
Place my button in your sidebar.
This giveaway is open to US addresses. Good luck!
Next Page »