Back to School shopping is in full swing…..which means many of us will start shopping for school lunches. The R.W. Knudsen Family brand has created a perfect addition to any lunch box - Sensible Sippers Organic Juice Boxes.

Product Description:
R.W. Knudsen Family brand has partnered with the Berenstain Bears for the launch of Sensible Sippers Organic Juice Boxes. The Sensible Sippers are 100% certified organic and come in a variety of fun flavors:
Fruit Punch




Banana




Apple




Mixed Berry
My Review:
Thanks to R.W. Knudsen Family, I received Apple and Mixed Berry Sensible Sippers to try out. Of course, they were an immediate hit with my little one - she easily recognized Mama Bear (apple) and Sister Bear (mixed berry) from the Berenstain Bears. Anything having to do with The Berenstain Bears has to be great!
Just like most juice boxes, these are extremely convenient for travel or school lunches. The boxes are sturdy and have a completely sealed straw attached. The flavors are great, and I'm looking forward to trying out the Banana flavor in the future - sounds yummy!
Kids always love juice boxes, but I was impressed as a parent. While my little one doesn't need school lunches yet, this review had me thinking of what I would pack in her lunch. Here's what I really loved about Sensible Sippers:
100% certified organic - we prefer organic produce, so this is a huge factor for me
Sensible Sippers are 50% juice and 50% water
(Funny story - My little one has just turned 2 and we are starting to drink juice. I've always heard that you should dilute the juice. So when I got the Sensible Sippers, I diluted our first one in a cup. HaHa It didn't taste quite right - that's because they've already diluted it for us.)
No added sugar, artificial flavors or preservatives
40% less calories than regular juice boxes
4.23 oz juice box - perfect size
Try them out this fall in lunch boxes or just at home to have while playing outside. Make it an even sweeter deal by printing off a $1.00 coupon off an 8-pk of Sensible Sippers. Coupon expires 9/30/09
Debra traded in high-powered suits and high-heeled shoes for a new role as mommy–crayon enthusiast, storyteller, and kisser of boo-boo's. You'll find her helping families at A Frugal Friend, where she teaches others how to reduce their expenses through coupons, rebates, freebies and deals.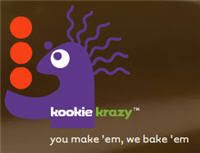 I love cookies. In fact, if I had to choose any snack in the world it would be homemade chocolate chip cookies. So when I found out about Kookie Krazy, I knew I had to check them out.
COMPANY DESCRIPTION
Mark Boos Benhard and James Kelley baked up the idea to open a franchise called Kookie Krazy where kids make their own oversized Kookies. The store provides the pre-made dough, with six flavors to choose from (sugar, plain, oatmeal, chocolate, peanut butter and espresso) from recipes provided by Kelley, an avid Kookie maker since grade school. Customers can then select from dozens for tasty bits ranging from chocolate chips to dried fruit to their favorite candy bars. A post-baking trip to the toppings bar features chocolate syrup, sprinkles and other goodies. Milkshakes, ice-cream sandwiches, Kookie cakes, gift baskets and ready-to-go Kookies are also on the menu.
MY REVIEW
I had the opportunity to review Kookie Krazy for myself and I loved it! It was so much fun to make my own cookies online and then have them delivered right to my door. Now that's the way to enjoy cookies!
First, I chose my cookie dough which was peanut butter. Then I just dragged the toppings I wanted onto my cookie. It was chocolate chips and Heath Bar bits for me. That was it! If I wanted to go back and make any changes, that was easy to do, too.
I liked that cookies arrived in a plastic bucket and individually wrapped. However, the best part was eating them. Now only were they fresh and delicious but they were also huge! I measured them to be about 4 1/2 inches across.  Now I can get my fill of cookies and be able to say that I ate just one! LOL!
So if you love cookies as much as I do, check out Kookie Krazy today! One dozen made-to-order gourmet cookies are only $19.99.
Have you heard about Salba? Don't worry. I had never heard of it either until I was given the opportunity to try several Salba Smart products. It's a whole grain that's touted to be nature's perfect whole food.
So what is it exactly?
Grown exclusively in Peru, Salba is:
The trademarked name for the white seeds produced by a variety of Salvia Hispanica.
All-natural.
Higher in Omega-3 than flax and salmon.
Higher in anti-oxidants than blueberries and pomegranates.
High in dietary fiber.
Free of trans-fats and gluten, and has almost no carbs.
Great for cardiovascular health.
Good for controlling Diabetes.
Just so you can visualize the nutritional aspects of Salba, ounce for ounce it provides three times more iron than spinach, 15 times more magnesium than broccoli, and six times more calcium than milk. Isn't that incredible? It's actually the only food that is part of each of the six groups of the USDA Food Pyramid.
Whole grain Salba and ground Salba are sold in small packages and can be added to everyday foods such as cereal, pancake mix, and smoothies. Basically it increases the nutritional value of meals and recipes without changing the flavor of the food.
I've been using the whole grain Salba wherever I can sneak it in these past two weeks, mostly in breakfast. It's the most important meal of the day, after all. The true test was whether my girls could tell that I added something to their breakfast! Salba passed the test with flying colors. My toddler eats everything, so I know that she wouldn't mind, but my 4-year old is very picky. Because Salba doesn't really have much flavor to it, she didn't notice a difference in her morning oatmeal or buttermilk pancakes, even though I added a generous amount of grain. This is what sold me on Salba!
As for myself, my favorite way to use the whole grain Salba is sprinkled over a salad. It gives it a nice crunch, and knowing I'm making a somewhat healthy meal even more nutritious is quite satisfying! I'm also looking forward to using it in muffins, but 90 degree days aren't really favorable for baking. I've read that Salba develops a nutty flavor when baked, however.
We also sampled a variety of other Salba Smart products, including organic blue corn and yellow corn tortilla chips, organic salsa, pretzels made with organic flour, and the new Baked Potato Crisps.


So what do I think? I prefer the flavor of the blue corn chips over the yellow, but they're both good. The chips are very filling and hold up well to dipping. The salsa I wasn't a big fan of. Perhaps it's because I generally prefer hot salsas (the spicier the better!) and very rarely buy it pre-made, but I found it to be very bland. And the pretzels… oh. Those were gone within minutes of me opening the bag! My girls loved them.
But my absolute favorite Salba Smart products have to be the new Baked Potato Crisps. In Original, Bold Barbeque, and Sour Cream & Onion, they're similar to Baked Lays, but with a nicer texture and much more flavor. Each variety is all-natural, containing just 2 grams of fat, and boasting a whopping 300 mg of omega-3 fatty acids per serving. Plus, these new chips are kosher, wheat free, gluten free, and contain zero grams of trans fat. Only problem is that they're not available until Fall! So I have to make my 3 bags last.


For those of you looking for snacks to put in your kids' school lunches, look no further. Salba Smart's Baked Potato Crisps will be available in 9oz snack-size bags! Salba Smart also offers 100-calorie Bite Size Organic Tortilla Chips, whole wheat tortillas, and pretzels.
I've always struggled with how to get my kids to eat more foods rich in Omega-3. Now I have the solution. I'm happy to say that Salba - and Salba Smart products - will be part of our diet from now on!
Salba Smart can be found at Whole Foods Market, Hy-Vee, Central Markets, United Supermarkets, Vitamin Cottage, Wegman's and other natural foods stores. It can also be ordered online at www.efoodpantry.com or www.amazon.com. The bags of whole grain and ground Salba are a little pricey, but the other Salba Smart products don't cost much more than their less-nutritious counterparts.
Courtesy of The Medical News:
One year after giving birth, women were less likely to have the most dangerous kind of obesity if they had been given probiotics from the first trimester of pregnancy, found new research that suggests manipulating the balance of bacteria in the gut may help fight obesity.
Probiotics are bacteria that help maintain a healthy bacterial balance in the digestive tract by reducing the growth of harmful bacteria. They are part of the normal digestive system and play a role in controlling inflammation. Researchers have for many years been studying the potential of using probiotic supplementation to address a number of intestinal diseases. More recently, obesity researchers have started to investigate whether the balance of bacteria in the gut might play a role in making people fat and whether adjusting that balance could help.
"The results of our study, the first to demonstrate the impact of probiotics-supplemented dietary counselling on adiposity, were encouraging," said Kirsi Laitinen, a nutritionist and senior lecturer at the University of Turku in Finland who presented her findings on Thursday at the European Congress on Obesity. "The women who got the probiotics fared best. One year after childbirth, they had the lowest levels of central obesity as well as the lowest body fat percentage."
"Central obesity, where overall obesity is combined with a particularly fat belly, is considered especially unhealthy," Laitinen said. "We found it in 25% of the women who had received the probiotics along with dietary counselling, compared with 43% in the women who received diet advice alone."
In the study, 256 women were randomly divided into three groups during the first trimester of pregnancy. Two of the groups received dietary counselling consistent with what's recommended during pregnancy for healthy weight gain and optimal foetal development. They were also given food such as spreads and salad dressings with monounsaturated and polyunsaturated fatty acids, as well as fibre-enriched pasta and breakfast cereal to take home. One of those groups also received daily capsules of probiotics containing Lactobacillus and Bifidobacterium, which are the most commonly used probiotics. The other group received dummy capsules. A third group received dummy capsules and no dietary counselling. The capsules were continued until the women stopped exclusive breastfeeding, up to 6 months.
The researchers weighed the women at the start of the study. At the end of the study they weighed them again and measured their waist circumference and skin fold thickness. The results were adjusted for weight at the start of the study.
Central obesity - defined as a body mass index (BMI) of 30 or more or a waist circumference over 80 centimetres - was found in 25% of the women who had been given the probiotics as well as diet advice. That compared with 43% of the women who got dietary counselling alone and 40% of the women who got neither diet advice nor probiotics. The average body fat percentage in the probiotics group was 28%, compared with 29% in the diet advice only group and 30% in the third group.
Laitinen said further research is needed to confirm the potential role of probiotics in fighting obesity. One of the limitations of the study was that it did not control for the mothers' weight before pregnancy, which may influence how fat they later become.
She said she and her colleagues will continue to follow the women and their babies to see whether giving probiotics during pregnancy has any influence on health outcomes in the children.
"The advantage of studying pregnant women to investigate the potential link between probiotics and obesity is that it allows us to see the effects not only in the women, but also in their children," she said. "Particularly during pregnancy, the impacts of obesity can be immense, with the effects seen both in the mother and the child. Bacteria are passed from mother to child through the birth canal, as well as through breast milk and research indicates that early nutrition may influence the risk of obesity later in life. There is growing evidence that this approach might open a new angle on the fight against obesity, either through prevention or treatment."
MY REVIEW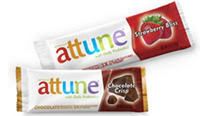 I had the opportunity to review three of Attune Probiotic Bar's new flavors - Coffee Bean Dark Chocolate, Raspberry Dark Chocolate, and Almond Milk Chocolate - and let me tell you, they were delicious. I would have never guessed that these bars were actually good for me and was providing me with calcium and fiber for better health. It's definitely a prescription that I wouldn't mind refilling over and over again!
Get yours in the yogurt case in your local grocery store.
Anytime someone mentions chocolate, I come running. So I was thrilled with the opportunity to review Celebrate Chocolates.
PRODUCT DESCRIPTION
We craft our chocolate by beginning with rare Criollo cocoa. We add our special blend of natural plant oils - Avocado, Macadamia nut, and Hemp seed oils. We finish it off with our unique "secret" ingredient, Nutritia 59 Whole Foods. Then we create a variety of five stunning flavors, plus Cocoa Almonds.
MY REVIEW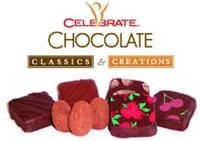 Celebrate Chocolates specializes in rich delicious chocolates that help curb your appetite. Just enjoy one about 20 minutes prior to your meal and you'll find yourself desiring less food during your meal. I can't really vouch for that since I'm currently 20 weeks pregnant and nothing can control my appetite!
However, what I can tell you is that Celebrate Chocolates are delicious! I had the opportunity to review the Cocoa Covered Almonds and Mountain Raspberry Truffles and I loved them. They had a deep rich taste and best of all, they contain Omega-3/DHA oils which is the same DHA like in baby's formula. No chemicals, no MSG, no Artificial flavors. Delicious and good for me? I think I need to get more!
Next Page »