This giveaway is now closed. The winner is comment #74: Christi! Congratulations!
Growing up, Science was never one of my favorite subjects. However, I may have felt differently if Sid the Science Kid was around back then.
SHOW DESCRIPTION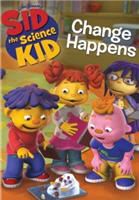 "Sid the Science Kid", The Jim Henson Company's first series for PBS KIDS that features a practical in-school science curriculum, uses music and humor to celebrate children's natural curiosity about science in everyday life. The energetic and inquisitive Sid starts each episode with a new question ("Why are my shoes shrinking?" "Why do bananas get mushy?") and embarks on a fun-filled day of finding answers with the help of family and friends.
MY REVIEW
We recently had the opportunity to review 2 new Sid the Science Kid DVDs: The Bug Club & Change Happens.
In Change Happens, we join Sid and the rest of the gang as they discuss why things change when exposed to time, temperature, and the environment. Girlie Girl's favorite episode was My Mushy Banana where the class talked about how different foods decay. It was pretty cool to see how elapsed time affected a perfect pumpkin into a pile of moldy mush. Baby Bug liked My Shrinking Shoes because it helped her to understand how her body is growing every day even though she can't really see it.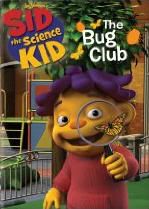 In The Bug Club, Sid takes a look at his backyard and wonders about all the things in it: leaves, dirt, bugs, animals, and more. Our family's favorite episode is Hello Doggie because we've all wondered from time to time if animals can understand us. Hello Doggie teaches us that all animals communicate in their own unique way by using body language, sounds, and barking!
Both DVDs also included a bonus disk that includes full stories from other great children shows such as WordWorld, Dive Olly Dive!, Hurray for Huckle!, Tine Planets, Will & Dewitt, Animal Atlas, Hermie and Friends, Pocoya and Hopia.
Overall, we feel Sid the Science Kid is a great educational show for children. It teaches them the reasoning behind the way things work and makes it fun in the process. I especially like when they have Lab Time where their teacher asks them questions and encourages the kids to use critical thinking to figure out the answers. Education and fun all together in one show! Expose your children to the wonders of Sid the Science Kid and watch them learn to love Science!
WIN IT!
I have both Sid the Science Kid DVD episodes to give away to one lucky winner! To enter:
Just mention in comments before midnight, Aug 6th why you'd like to win this DVD set. That's it!
A random winner will be selected and notified via email shortly thereafter.
The winner will then have 3 days to claim their prize.
To earn extra entries, you may do one or all of the following. Each one counts as an extra ticket but you must leave a separate comment for each one.
Subscribe to my feed.
Follow me on Twitter.
Place my button in your sidebar.
Mention this giveaway on your blog with a link back here.
This giveaway is open to US addresses. Good luck!
These DVDs were provided to me free to charge by PBSKids for the purpose of reviewing them and expressing my unbiased thoughts. By entering this giveaway, you're acknowledging that you've read, understood and agreed to my diclosoure policy.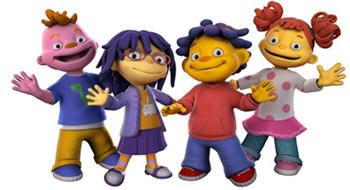 Recently, I was encouraged by my cardiologist to start doing Yoga. Yoga….Isn't Yoga something that new age hippies in India do? Well, I really like new age music, traveling to India is quite intriging and…I trust my doctor so
I tried Yoga and found I really like it.
That is why I'm very excited about the "Yoga Buddies - Bedtime Stories" DVD for children.
Product Description: Yoga Buddies is dedicated to making a difference for kids health and well being through the practice of yoga. We are proud to say we have taught in more than 45 schools and organizations, and our products and class have reached more than 3,000 kids.
Help your kids quiet their mind and relax their body as they prepare for a good night sleep with Yoga Buddies Bedtime Stories. A unique DVD combining the tradition of storytelling before bed with the calming practice of yoga.
My Review: The DVD has three stories that are narrated by Yoga Buddies creator Denay Di Virgilio. As Danay reads the original and adventurous stories aloud, her young yoga buddies, Lucy, Cole, Zach, Amelia and Phoebe teach us different yoga poses.
I along with my three grandchildren found Yoga Buddies Bedtime Stories delightful and relaxing. Interestingly, we all seemed to have a different favorite story. Each story is about 15 minutes long and full of yoga poses from the flamingo to the owl and the starfish.
The Yoga Buddies website lists the locations of the schools and also the information on classes and summer camps. There's also a new yoga pose posted monthly.
Swan Dive into Forward Fold
Start standing with feet hip distance apart, hands are together at the heart. Inhale hands up over the head. Exhale as arms float down, hinging at the hips and the upper body bends forward. The fingers are reaching for the floor. There can be a slight bend in the knees. Hang here either with your fingers reaching for your toes or hold onto your elbows and let gravity work its magic. Allowing your upper body to relax and feeling the stretch in your legs take several long, deep breaths in and out. Come up slowly to a standing position.
The great thing about Yoga Buddies is you don't have to live near any of the schools to take a class. You can do Yoga Buddies in the comfort of your own home.
You can purchase the DVD here and here.
As Danay says on the DVD, "NamaStay" which means "I respect and honor you!"
One of my favorite cities to visit in the United States is Boston. I have always loved American history and in this beautiful city one can both feel and see the history of this great country.
Of course it isn't always possible for us to visit historical places as often we might like so, I'd like to share with you the next best thing.
The Founding of America is an excellent 14-DVD set from the History Channel. Each DVD tells of the personalities, the bravery, the losses and even the romances of the inspiring early days of America.
Performances by Kelsey Grammer, Aidan Quinn and Jeff Daniels make this series entertaining yet educational. With leading historians and rare archival material, The Founding of America is historical programming at its best.
From A & E: FOUNDING FATHERS and FOUNDING BROTHERS examine the relationships of the very human men who risked their fortunes and lives for independence. THE REVOLUTION recounts great battles, devastating losses, and miraculous victories. BEN FRANKLIN and BENEDICT ARNOLD: A QUESTION OF HONOR look at the critical roles played by both men–one a hero, the other a traitor–while WASHINGTON THE WARRIOR and THE CROSSING pay tribute to the soul-stirring leadership of our first president.
The content of the 14 DVDs cover well known events in history and some not so well known events also. Myths are dispelled and facts confirmed. With a sense of being part of history and seeing what happened behind the scenes, The Founding of America makes history real for everyone watching.
This DVD set is perfect for family libraries. Children of all ages will be able to reference it for class assignments and to enhance their education. They'll gain an intimate glimpse into the lives of the noble faces gazing out from our dollar bills and pocket change.
The Founding of America is available from the History Channel Store and Amazon.