As parents, we know that babies learn so much in their first year of life….and we are there to help them along the way.   I was just given the opportunity to review a new book, Baby Smarts: Games for Playing and Learning, that will help parents have fun with their little ones during this special first year, while encouraging necessary development at the same time.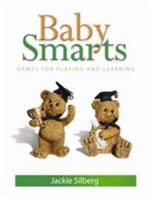 Book Description:
Baby Smarts is filled with developmental games based on the latest brain research. The book is divided into 4 chapters, each representing a 3-month period in a baby's first year. Each activity helps develop and reinforce the skills babies need in order to reach typical developmental milestones.
My Review:
I would have loved this book when I was pregnant. I had sooo many books on my nightstand…..some helpful, some not. This book would have been practical. Many books out there talk about developmental milestones…. what your child should be doing at 6 months. I never came across one, until now, that gave you pages of games and activities along with the list, to help your child reach those milestones.
I remember trying to get creative on my own figuring out ways to get my daughter to do certain things physically……she especially  hated tummy time, but I knew it was important since she slept on her back. This book would have been sooo helpful and I am sure would be a lifesaver to other parents  who can at times be so sleep-deprived. Oh, I remember those days well.
The best part is that the activities in the book require NO expensive gadgets or toys. It reminds us that yes, toys are always fun, but they are not necessary for a healthy, developed child. Parents can get creative with pots and pans, twigs, cereal, hats and wooden spoons.
While some of the activities are simple things that a parent might already be inclined to do, the real benefit of the book is having it all in one place, according to age.
A great idea for any expectant couple!
Debra traded in high-powered suits and high-heeled shoes for a new role as mommy–crayon enthusiast, storyteller, and kisser of boo-boo's. You'll find her helping families at A Frugal Friend, where she teaches others how to reduce their expenses through coupons, rebates, freebies and deals.
Recently, I was encouraged by my cardiologist to start doing Yoga. Yoga….Isn't Yoga something that new age hippies in India do? Well, I really like new age music, traveling to India is quite intriging and…I trust my doctor so
I tried Yoga and found I really like it.
That is why I'm very excited about the "Yoga Buddies - Bedtime Stories" DVD for children.
Product Description: Yoga Buddies is dedicated to making a difference for kids health and well being through the practice of yoga. We are proud to say we have taught in more than 45 schools and organizations, and our products and class have reached more than 3,000 kids.
Help your kids quiet their mind and relax their body as they prepare for a good night sleep with Yoga Buddies Bedtime Stories. A unique DVD combining the tradition of storytelling before bed with the calming practice of yoga.
My Review: The DVD has three stories that are narrated by Yoga Buddies creator Denay Di Virgilio. As Danay reads the original and adventurous stories aloud, her young yoga buddies, Lucy, Cole, Zach, Amelia and Phoebe teach us different yoga poses.
I along with my three grandchildren found Yoga Buddies Bedtime Stories delightful and relaxing. Interestingly, we all seemed to have a different favorite story. Each story is about 15 minutes long and full of yoga poses from the flamingo to the owl and the starfish.
The Yoga Buddies website lists the locations of the schools and also the information on classes and summer camps. There's also a new yoga pose posted monthly.
Swan Dive into Forward Fold
Start standing with feet hip distance apart, hands are together at the heart.  Inhale hands up over the head. Exhale as arms float down, hinging at the hips and the upper body bends forward.  The fingers are reaching for the floor.  There can be a slight bend in the knees. Hang here either with your fingers reaching for your toes or hold onto your elbows and let gravity work its magic.  Allowing your upper body to relax and feeling the stretch in your legs take several long, deep breaths in and out. Come up slowly to a standing position.
The great thing about Yoga Buddies is you don't have to live near any of the schools to take a class. You can do Yoga Buddies in the comfort of your own home.
You can purchase the DVD here and here.
As Danay says on the DVD, "NamaStay" which means "I respect and honor you!"
Four Wives
With a long weekend to look forward to, I knew I'd pack the new book, Four Wives in my suitcase.
Book Description:
Four Wives is the first novel for Wendy Walker, a former litigator turned stay at home mom…….someone whom I could definitely relate to.  The book focuses on four wives in wealthy suburb, each dealing with their own issues.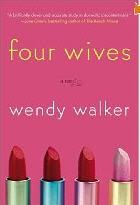 My Review:
I love a good summer book - one you can finish during a long weekend.  Four Wives is perfect to grab for a weekend getaway or just hanging out by the pool. 
While the setting of the story is in an extremely wealthy suburb, the issues faced by each character could happen just about anywhere.  I found myself drawn to one character yet despising another.  Overall, the point is well made that you never know what is going on in other people's lives, even if they are your closest friends.  Secrets are hidden.  Lies are told.  People let you see what they want you to see and nobody has a perfect life.
All this makes for an intriguing book about these suburban friends - betrayal, abuse, family issues, and love.  I look forward to what Wendy Walker will bring us later this year with her next book, Social Lives.
 Debra traded in high-powered suits and high-heeled shoes for a new role as mommy–crayon enthusiast, storyteller, and kisser of boo-boo's. You'll find her helping families at A Frugal Friend, where she teaches others how to reduce their expenses through coupons, rebates, freebies and deals.
iStoryTime for iPhone
My girls love to have books read to them. However, I don't always have the time to read to them whenever they want. That's why when I heard about iStory Time by Frog Dog Media, I thought it was a great idea.
PRODUCT DESCRIPTION
"iStoryTime provides mind-enriching entertainment for the kids while making life a little easier for mom or dad," said Graham Farrar, founder of iStoryTime and FrogDogMedia. "Instead of having to resort to movies or video games to occupy your child when you need a few minutes to finish the grocery shopping, are out at a restaurant, or stuck in traffic, you can give them a story they'll want to hear and see again and again."
MY REVIEW
We had the opporutnity to review Fred the Fish and my 3 year old loved it! She had to listen to it over and over again. In this story, Fred the Fish tries to convince Paul the Walrus to try squash for the first time. It was a great lesson for my daughter that trying new foods can be a great thing!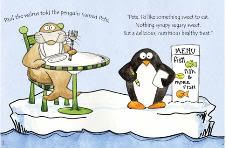 As for the actual application, what I really liked is that you can choose to have the book narrated to you or you can read it on your own. This made the application interesting to even my 7 year old since she loves to read books. Kids can even choose among the different narrators - adult, child, characters - which ensures that the story never gets boring. Plus, having the pages turn automatically made this a very kid-friendly app.
We loved iStoryTime and will definitely be checking out the other books in their library!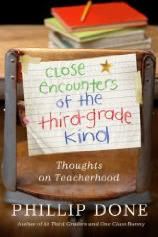 Well, he's done it again. In Phil Done's (rhymes with phone) second book, Close Encounters of the Third-Grade Kind, we get another insightful and hilarious look into the mind of an elementary school teacher.
BOOK DESCRIPTION
A twenty-year veteran of the classroom, elementary school teacher Phillip Done takes readers through a lively and hilarious year in the classroom. Starting with the relative calm before the storm of buying school supplies and posting class lists, he shares the distinct personalities of grades K-4, what he learned from two professional trick or treating 8-year-old boys, the art of learning cursive and letter-writing, how kindergartners try to trap leprechauns, and what every child should experience before he or she grows up.
MY REVIEW
The best thing about this book is that everyone can relate whether you have young school aged children or not. After all, we were all third grade ourselves once, right? Phil Done has a way of taking everyday school situations and making you see it in a whole different light. Kind of a like a Seinfield episode.
Reading this book made me realize that teachers and students have a lot in common. They both love new school supplies, they both get excited (or disappointed) when they find out who's in their class, and they all look forward to school breaks.
The best part about Close Encounters of the Third-Grade Kind is the way it's set up. It's broken up into easy to read chapters so you don't need a major time committment to be able to get through a few chapters. Just pick it up when you have a few spare moments and need a good laugh.
Close Encounters of the Third-Grade Kind will be released in September 2009 so be on the lookout. You won't want to miss this great read!
Next Page »