I'm always on the lookout for kids clothing that are not only functional but shares a positive message. So when I was introduced to Bee-Tees, I knew I found exactly what I was looking for.
COMPANY DESCRIPTION
Communication is the key in any relationship. Bee-Tees provide a teachable moment of communication between parents and children. With the environment in which we find ourselves today, parents should take responsibility to teach their children about positive character. In our hectic lives it can sometimes be difficult to find the time or opportunity to start these conversations about character. Kindness, honesty and fairness must come back into our businesses, our government and our lives. We are responsible for teaching our children, not friends, television or movies. Bee-Tees is a vehicle for parents to use to start a conversation about these traits.
MY REVIEW
We received their Bee Kind Tee in Blossom and loved it! This 100% cotton shirt was not only soft and comfortable but the silk-screened image was bright and colorful. Girlie Girl couldn't wait to wear it.
What I liked best was the positive message that the shirt conveys not only to my daughters but to everyone who sees it. I know that if I saw a shirt that said "Bee Yourself" or "Bee Inspired" it would make me stop a moment and reflect on those character traits.
These shirts are available in a variety of colors, designs, and even sizes. Everyone from babies to adults can sport their very own Bee-Tees. And how cute would it be if everyone wore a Bee-Tees on your next family outing? I guarantee that you'll get tons of compliments!
Stop by Bee-Tees today!
As parents, we know that babies learn so much in their first year of life….and we are there to help them along the way.   I was just given the opportunity to review a new book, Baby Smarts: Games for Playing and Learning, that will help parents have fun with their little ones during this special first year, while encouraging necessary development at the same time.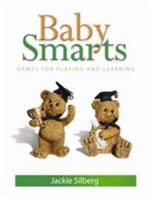 Book Description:
Baby Smarts is filled with developmental games based on the latest brain research. The book is divided into 4 chapters, each representing a 3-month period in a baby's first year. Each activity helps develop and reinforce the skills babies need in order to reach typical developmental milestones.
My Review:
I would have loved this book when I was pregnant. I had sooo many books on my nightstand…..some helpful, some not. This book would have been practical. Many books out there talk about developmental milestones…. what your child should be doing at 6 months. I never came across one, until now, that gave you pages of games and activities along with the list, to help your child reach those milestones.
I remember trying to get creative on my own figuring out ways to get my daughter to do certain things physically……she especially  hated tummy time, but I knew it was important since she slept on her back. This book would have been sooo helpful and I am sure would be a lifesaver to other parents  who can at times be so sleep-deprived. Oh, I remember those days well.
The best part is that the activities in the book require NO expensive gadgets or toys. It reminds us that yes, toys are always fun, but they are not necessary for a healthy, developed child. Parents can get creative with pots and pans, twigs, cereal, hats and wooden spoons.
While some of the activities are simple things that a parent might already be inclined to do, the real benefit of the book is having it all in one place, according to age.
A great idea for any expectant couple!
Debra traded in high-powered suits and high-heeled shoes for a new role as mommy–crayon enthusiast, storyteller, and kisser of boo-boo's. You'll find her helping families at A Frugal Friend, where she teaches others how to reduce their expenses through coupons, rebates, freebies and deals.
One of the things I noticed when I first gave birth was that my memory was not what it used to be. Maybe it was the lack of sleep. Maybe I just had too many other things on my mind. In any case, I just could not remember the simpliest things like the last time I fed the baby or how long she'd been sleeping. I would try to write the times down on a piece of paper but the list would eventually get lost. So when I found out about Baby Brain, I knew I had to check it out for my upcoming birth.
PRODUCT DESCRIPTION
You know that keeping logs will help. The hospital sends you home with a binder. Pediatricians ask about diapers, number of feedings, etc. You're tired and wish you could remember! With Baby Brain, no more scratchpads. No more hunting for a pen at 4am. No more spreadsheets. With a tap on your phone, you've got a built-in log and instant access to your baby's daily, weekly and monthly info.
MY REVIEW
I receive a redemption code to try out Baby Brain for myself and found it to be very useful. There are four different catergories: Breastfeeding, Bottles, Diapers, and Sleep. It's even able to keep track of mulitple babies at one time - perfect for those with twins. All you need to do is input the basic info for each child and you're all set.
For Breastfeeding, there is a timer that keeps track of how long you've been nursing on each side. It's just like a little stop watch where you just have to click the start and stop button. The Bottle function tells you the last time you fed your baby and how many ounces she drank. The Diaper section keeps track of the times you've changed her diaper and what was in each change. Finally, the Sleep function keeps track of the time she went to sleep and the time she woke up. Each of these four sections has an area for you to insert your own notes that you want to remember.
What I really liked about Baby Brain is that for all the areas where you need to keep track of time or date, it automatically defaults to the current one. This saves a lot of time from inputing the information. I also found it very useful to be able to view the saved information in a daily, weekly, or monthly format. You can even email this info to doctors or anyone else who requires the information. How cool is that!
So if you're looking for a little help in keeping track of all your baby's vital information, check out Baby Brain. Because we all could use the extra help!
This giveaway is now closed. Thank you for your participation.
The winner is comment #122: Lisa
Congratulations!
Before I had children I had no idea what swaddling was. It was a little difficult for me at first but then I figured out that it's just like wrapping up a little burrito. Of course, when you have a brand new baby, you only want the cleanest and softest blanket to touch their skin. So when I had the opportunity to review Tourance's luxurious swaddling blankets, I was thrilled!
PRODUCT DESCRIPTION
Our swaddling blankets are made of beautiful, super soft and stretchy so it can be swaddled around the little ones to good night sleep. And yet, it's so designer looking, you still can use it to go out as the decorative blankets on your baby laps. Size is generous 30″ x 36″. Made in USA.
MY REVIEW
When we first received our blankets, they came wrapped up in pretty netting and a matching bow. They looked perfect for gift-giving. However, when I opened the blankets up I realized that there was no way I was giving them away. They were the softest blankets I"ve ever felt!
The quality of these blankets are amazing and I know any baby would feel extra special to be wrapped up in something so soft and comfortable. However, what I really liked is that despite the fluffyness, these blankets are surprisingly lightweight . . . perfect for those Hawaiian summer days.
Tourance also has lots of other items for baby like bib & burp sets, snuggles, and robes as well as items for your home. Stop by and check it out!
WIN IT!
Tourance has generously donated a swaddling blanket in your choice of designs for one lucky winner! To enter:
Just stop by Tourance before midnight, June 14th and view their great fabric choices.
Then come back in mention in comments which swaddling blanket you'd like to win. That's it!
A random winner will be selected and notified via email shortly thereafter.
The winner will then have 3 days to claim their prize.
To earn extra entries, you may do one or all of the following. Each one counts as an extra ticket but you must leave a separate comment for each one.
Subscribe to my feed.
Follow me on Twitter.
Mention this giveaway on your blog with a link back here and to Tourance.
Place my button in your sidebar.
This giveaway is open to US addresses. Good luck!
We enjoy spending time outdoors with our little one, even with it getting warmer each week.  Recently, we put the new 2009 Banana Boat suncare line to the test with visits to the Ft. Worth Zoo and local parks.
Product Description:
The 2009 Banana Boat suncare line offers their most complete protection against the sun. The line offers a variety of products for everyone in the family, including babies and  kids. All Banana Boat sunscreens are tested outside in the sun, not just in a lab. Exclusive, patented AvoTriplex technology provides long-lasting, UVA & UVB protection.
My Review:
In my family, we've been huge fans of the Banana Boat UltraMist sunscreens. We first tried these out on a beach-side vacation several years ago. I love how you get quick and no-mess coverage with the continuous spray sunscreens. I've recently found that it makes for easier applying on a quick-moving toddler too.
My husband prefers the Banana Boat Sport Performance continuous spray. It's rub-free and very water/sweat resistant, which is vital when working outside in the yard. Both the Sport Performance and Ultra Defense sunscreens have an SPF of 85. I was impressed, having never used anything higher.
For my little one, I used the Tear Free Baby Continuous Spray with an SPF of 50. She giggled and squirmed as I sprayed it on her arms and legs.  Too cute. For the first time, I was able to try the Banana Boat Baby sunscreen stick. It looks like a large lip balm container, but it's sunscreen in a stick. This was perfect for applying to her little ears and face area. A brilliant invention for parents!
Of course, Banana Boat products are economical too, with most continuous spray sunscreens costing under $10. To make it even sweeter deal, you can also get $2.00 off your next Banana Boat purchase.  Just in time for summer!
Debra traded in high-powered suits and high-heeled shoes for a new role as mommy–crayon enthusiast, storyteller, and kisser of boo-boo's. You'll find her helping families at A Frugal Friend, where she teaches others how to reduce their expenses through coupons, rebates, freebies and deals.