Ten Speed Press is an independent press that specializes in books that enrich and inspire your life. They have books for readers of all ages from the very youngest to the young-at-heart.
From the site: "From the bathtub to the bestseller list, Ten Speed has built its reputation on enduring career and business books like Richard Bolles's What Color Is Your Parachute? (the best-selling job-hunting book in the world), acclaimed cookbooks that range from the upscale (Charlie Trotter's) to the perennially popular (Mollie Katzen's The Moosewood Cookbook) and the downright quirky (White Trash Cooking). Along the way, the company has also made its mark with an eclectic list of unclassifiable books, How to Shit in the Woods, Why Cats Paint, Cannabible, and Furry Logic."
Over the years, Ten Speed Press has branched out into other divisions, including Tricycle Press which specializes in childrens books.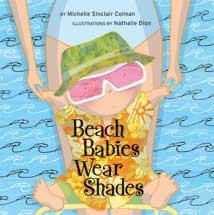 We had the opportunity to review two Ten Speed Press books - Beach Babies Wear Shades & Doorknob the Rabbit and the Carnival of Bugs.
Beach Babies Wear Shades is a bright and colorful boardbook by Michelle Sinclair Colman. It's simple and easy for young ones to follow along as they talk about all the things that babies do at the beach. It will make all of you in colder weather dream about the warm sunshine.
Doorknob the Rabbit and the Carnival of Bugs is a fun read about an organized and clean-freak bunny who's world is turned upside down when he receives a bunch of unexpected late-night visitors. He tries everything he can think of to get rid of these rascal bugs until he finally figures out the solution that was staring him right in the face. What is it? You have to read the book to find out!
Check out these titles and lots more at Ten Speed Press. Your kids will thank you!
Win it!
I have a copy of Doorknob the Rabbit and the Carnival of Bugs to give away to one lucky winner. To enter:
Just stop by Tricycle Press before midnight, Dec 20th and check out their children books.
Then come back and mention in comments which book is your favorite. That's it!
A random winner will be selected and notified on Dec 21st.
The winner will then have 3 days to claim their prize.
To earn extra entries, you may do one or all of the following. Each one counts as an extra ticket but you must leave a separate comment for each one.
Subscribe to my feed.
Mention this giveaway on your blog with a link back here and to Tricycle Press.
Place my button in your sidebar.
This giveaway is open to US addresses. Please leave a way to contact you in case you win. Good luck!
Aloha
Jessica Cote
,
Valerie Mabrey
, Kristie,
Justyn
,
John
, Cindy B. in Montana,
Miss Heidi
,
Heather Weber
,
Kate
, Robyn,
Holly
,
Staceyk
,
Shelly
,
Sandra kao
, Janet F,
Keywestbiscuit
,
Lauralee Hensley
, Shae,
Clenna in NH
,
Nancy
, Susan C,
Adrienne Gordon
, Valerie Mitchell,
Gwen L
,
Erin
,
Cherie J
, Suzanne B. (Crunchy Green Mom),
Stephanie V
,
Christina G.
,
Eloise C
, Elizabeth M.,
Christopher h
,
Clifton Wade
, Sharon Jones,
Lisa L.
,
Maggie M
,
Marty lentz
,
Tracey johnson
,
Amanda
,
Sandy
, Nancy J., Marianne, Melissa, Thomas Semesky,
Shannon Baas
,
Mia J.
, MaryBeth I,
Ronni Fox
, Stampedwithgrace,
Jo
,
Sito
,
Natasha Archie
,
Jenn S.
,
Carolyn s
, Mama Zen,
Susan varney
,
Debbie
,
Judy brittle
,
Michael Capp
,
Peggy Gorman
, and Ajacobsen