Hot Links of the Week
GIVEAWAY EVENTS
Mom of 3 Boys - Back 2 School Blog Bash – 30 Days of Giveaways
Hip Mama's Place - Breastfeeding Awareness Month Giveaways (Aug 17)
FOR EVERYONE
Mom Knows It All - Zenses Ocean DS (Aug 5/US)
Here And There - Bruno Jamais NY Gift Certificate (Aug 5/NY area)
Monsters In My House - Ruthless & Toothless apparel item of choice (Aug 8/US)
Nicole's Nickels - To-Go Pet Bowl (Aug 9/US)
Table For Five - $100 gift certficate to Pajamagram.com, $50 gift certificate to Borders books, a blanket, a journal, and a large canvas tote to hold everything (Aug 14)
My Moms View - Value Rays USB Mouse Hand Warmer (Aug 14)
Mom's Focus On Cyber World - Zoom Photo Book Kit (Aug 20)
Mom's Focus on Cyber World - Crazy Dog T-shirt (Aug 20)
Billeo - iPhone 3GS (Aug 26/US & District of Columbia)
Healthy Moms - Lipo-Flavonoid Plus for Tinnitus (ringing in the ears) sufferers (Aug 27/US)
Simply Sensational Divas Review - Little Lamb Design $50.00 gift certificate (Aug 31/US & Canada)
Music. Movies. Mayhem. - Mimobot 2GB Designer Flash Drive Giveaway (Aug 31/US & Canada)
Music. Movies. Mayhem. - Casio LK-100 Lighted Keyboard Giveaway (Aug 31/US)
Music. Movies. Mayhem. - Roku Digital Video Player Giveaway (Aug 31/US)
Music. Movies. Mayhem. - Slacker Radio Plus 1 Year Subscription A9ug 31/All)
Music. Movies. Mayhem. - Kodak Easyshare W1020 Digital Frame (Aug 31/US & Canada)
Mama Makes Money - Club POGO One Month Subscription (Aug 31/All)
Momstart – 5.00 to Wendy's (Aug 31)
Momstart – Two Halloween Costumes, 1 child and matching adult (Aug 31)
Pazsaz Entertainment Network - Nintendo Wii: includes Nintendo Wii Game Console, Wii Remote controller with Wii Remote Jacket, Nunchuk controlle, Wii Sports, sensor bar, power cord, standard composite cable and stand (Sept 18/US)
FOR WOMEN
Bionic Beauty - $1600 worth of YBF Skincare products (Aug 6/US & Canada)
Shrimp Salad Circus - Handmade Peacock Feather Hairband (Aug 9/All)
Audrey's Give Away Blog - Zippered Pouch from JPAT Purses (Aug 9/All)
KI Designs - $50 Gift Certificate for hand stamped jewelry (Aug 9/US)
The Giveaway Diva - Bead Passion Giveaway prize pack: Necklace, earrings, cellphone charm (Aug 10)
Monsters In My House- Trunk show Chic $25 GC (Aug 11/US)
My Moms View - Je`Marie - FUMI Pursehook: bracelet (Aug 11)
My Moms View - 144 Collection: Purse (Aug 11)
All Because Two People Fell in LOVE - Konstantino Inspired Two Tone Hammered Cable Earrings (August 12th/US)
Ecokaren - Eco Spa Package including Organic Washcloth, Organic Reusable Makeup Remover Pad, Goat Milk Soap, and Organic Herbal Ointment for Sensitive Skin and lots of eco friendly samples (Aug 15/All)
Just for Me…and You - Misikko Hana Professional Flat Iron (Aug 15/US)
Mom's Focus On Cyber World - Lucid New York Jewelry (Aug 15)
Beauty and Personal Grooming - Tight Curves- Perfect Protein for Women Only and naat hair care (Aug 16/US & Canada)
The Giveaway Diva - Triple Threat Giveaway (Aug 18)
Mom's Focus On Cyber World - Andrea's Beau Hair Accessories (Aug 20)
Ms. Modern - Misikko 1″ Pink CHI Flat Iron Giveaway (Aug 31/US)
She Became a Butterfly - Misikko 1″ Pink Hana Professional Flat Iron Giveaway (Aug 31/US)
Mama Makes Money - Misikko 1″ Hana Professional Flat Iron Giveaway (Aug 31/US)
FOR KIDS
3Boys&aDog – Crayola CreativityCast giveaway (Aug 7/US & Canada)
Monsters In My House- Jinwood Shoes (Aug 8/US & Can)
Sweeps4Bloggers - Chicken Dance by Tammi Sauer (Aug 8/US & Can)
All Because Two People Fell in LOVE - Precious Girls Package (August 8th/US)
Just for Me…and You - Pip Squeakers $25 gift card (Aug 9/US)
All Because Two People Fell in LOVE - Mabel's Labels Ultimate Back to School Combo Package (August 11th/US)
Melinda Joy - Learning Link Brain Training System 3 month membership: for children with autism, ADHD, dyslexia and other learning disabilities (Aug 15/All)
Playground for Parents - Kid Shoes from Livie and Luca (Aug 17/US & Canada)
Momstart – Kajeet, Free Realms, Shred Sled/Skateboard (Aug 18/US)
Momstart – Bumkins Bib, Art Easel and Paint Supplies (Aug 19/US)
Playground for Parents - Shoes from pediped (Aug 23)
Playground for Parents - Lunchbox Notes from PenPal (Aug 23)
Playground for Parents - $50 Gift Certificate from One Small Step (Aug 23)
Playground for Parents - Personalized Backpack from Kids Travel Zone (Aug 23)
Playground for Parents - Decorative Accessories from PakNak (Aug 23)
Momstart – Zula Patrol DVD and Zula Patrol on-line membership (Aug 31)
Simply Sensational Divas Review - $20.00 gift certificate to Piggy paint (Aug 31/US & Canada)
FOR BABY
Confessions of a Housewife - Babyjo Bamboo Romper (Aug 6/US & Canada)
My Moms View - KC Fuzzy Onesie (Aug 7)
My Moms View - Tiny Wiggles $30 Gift Certificate (Aug 7)
Momma In Flip Flops2 - Bumkins Contour Cloth Diaper and Cover (Aug 7/US)
Design Dazzle - Personalized Baby Art (Aug 9)
Momstart – 35.00 to Bumkins Finer Baby Products (Aug 10)
The Diary Of A Posh Mommy - The Baby Dipper Bowl and Spoon Set (Aug 13)
My Moms View - Ruthless & Toothless: item of your choice (Aug 14)
Natural Mama Review - A pair of Tip Toey Joey infant shoes: size 6-12 months (Aug 16/US & Canada)
Musings of a Mommy Brain - Nurture My Body Organic Baby Care Sample Set (Aug 16/US)
Cool Baby Kid - Wow Baby Bib & Burp Cloth Set (Aug 19)
Mom's Focus On Cyber World - Smart Mom Teething Bling (Aug 20)
Mama Makes Money - Boon Inc. Squirt Spoon Giveaway (Aug 31/US)
Kinderbloom - Infant Tutu (Sep 2)
HOME & GARDEN
Confessions of a Housewife - Digital Room Poster (Aug 6/US & Canada)
My Moms View - Grobag Egg Color Changing Room Thermometer (Aug 7)
3 Little Ones - $25 gift card to Ecostore USA (Aug 7/All)
Salad for Breakfast - 2 soap bars and sugar scrub from Pink Parchment Soaps (Aug 7/All)
Here And There - Bake Me A Wish Cake (Aug 7)
Momma In Flip Flops2 - Prowash Activewear Detergent (Aug 7/US & Canada)
Momma In Flip Flops2- McCormick's and Schmick's $25 GC - (Aug 7/US)
3Boys&aDog – Simple Green Pet & Stain Remover (Aug 7/US & Canada)
Sweeps4Bloggers - Zola Acai Juice, Smoothies, Cooler, Bracelet (Aug 8th)
SIMPLE - Pillsbury Simply prize pack: coupon for free cookie dough, cute cookie jar, Simply tote bag (Aug 8/US)
La Jolla Mom - $25 Ecostore USA Gift Certificate (Aug 8/All)
Life's a Charm - 3×5 Greek Flokati Rug ($79) from nuLoom Inc (Aug 9/US)
Nicole's Nickels - Light My Fire Candles (Aug 9/US)
The Clan McLeod - Trix Swirls Gift Basket (Aug 10/US)
Just for Me…and You - MyGeneImage Digital Print or Crystal (Aug 10/US)
My Moms View - Glade: Soy Candle, Multi-wick Soy Candle & Reed Diffuse (Aug 11/US)
The Mama Hoods Goods - Sasquatch or Kendall collection from The Carolina Pad (Aug 11/US)
Delightful Home - one home decor item from the following list: set of 4 chalkboard wall decal panels, set of 4 dishes/4 tumblers, decorative dog or cat food canister, girl's decor pink and chocolate brown pillow, surfboard growth chart (Aug 11/US & Canada)
The Clan McLeod - Yoplait & Stationary Gift Basket (Aug 12/US)
The Diary Of A Posh Mommy - Handmade Bath and Body Products (Aug 13)
Green and Chic - (6) Eco-Friendly Pet Cleaning Products from Green+Clean (Aug 14/US)
Frugal Freebies - Glade Gift Pack Giveaway (Aug 14/US & Canada)
3Boys&aDog – The Joyful Organizer: 30 minute Consult (Aug 14th/All)
Focus Organic - 8×10 nature photo from FotoMacro (Aug 15/US)
Peace & Quiet - Polder BBQ Instant read Thermometer (Aug 18/US & Canada)
Mom's Focus On Cyber World - Soy Organic knit Blanket (Aug 20)
Select Comfort - Sleep Number p5 Queen bed set (Aug 22)
Playground for Parents - Snacks from Revolution Foods (Aug 23)
Playground for Parents - Duffel Bag from Living Rooms Direct (Aug 23)
Playground for Parents - $30 Gift Certificate from Room It Up (Aug 23)
Playground for Parents - Snacks from LesserEvil (Aug 23)
Playground for Parents - Snacks from Snikiddy (Aug 23)
Playground for Parents - Overnight Bag from Kushies (Aug 23)
Playground for Parents - Sleeping Bag from Sensory Edge (Aug 23)
Just for Me…and You - FLOR 5×7 (12 tiles) area rug (Aug 24/US)
Melinda Joy - Chakas Sauces Lil Sampler Pack (Aug 28/US & Canada)
Mama Makes Money - Triple Chocolate Brownie Enrobed Cake (Aug 31/US)
Momstart – Stretch Island Fruit Company Fruit Leather (Aug 31)
ENTERTAINMENT FOR GROWN-UPS
MommaDJane - Michael Buble's DVD/CD combo: Michael Buble Meets Madison Square Garden (Aug 6)
Sweeps4Bloggers - I Can See You by Karen Rose (Aug 8/US & Canada)
Healthy Moms - Dr. Kavaler's book, "A Seat on the Aisle, Please! The Essential Guide to Urinary Tract problems in Women" and a free box of Cystex (Aug 26/US)
Elizabeth Pantley - a full set of five No-Cry Solution books – autographed (Aug 31)
Pazsaz Entertainment Network - Heroes: Season Three DVD Set (Sept 1/US)
Bee-Tees
I'm always on the lookout for kids clothing that are not only functional but shares a positive message. So when I was introduced to Bee-Tees, I knew I found exactly what I was looking for.
COMPANY DESCRIPTION
Communication is the key in any relationship. Bee-Tees provide a teachable moment of communication between parents and children. With the environment in which we find ourselves today, parents should take responsibility to teach their children about positive character. In our hectic lives it can sometimes be difficult to find the time or opportunity to start these conversations about character. Kindness, honesty and fairness must come back into our businesses, our government and our lives. We are responsible for teaching our children, not friends, television or movies. Bee-Tees is a vehicle for parents to use to start a conversation about these traits.
MY REVIEW
We received their Bee Kind Tee in Blossom and loved it! This 100% cotton shirt was not only soft and comfortable but the silk-screened image was bright and colorful. Girlie Girl couldn't wait to wear it.
What I liked best was the positive message that the shirt conveys not only to my daughters but to everyone who sees it. I know that if I saw a shirt that said "Bee Yourself" or "Bee Inspired" it would make me stop a moment and reflect on those character traits.
These shirts are available in a variety of colors, designs, and even sizes. Everyone from babies to adults can sport their very own Bee-Tees. And how cute would it be if everyone wore a Bee-Tees on your next family outing? I guarantee that you'll get tons of compliments!
Stop by Bee-Tees today!
Kookie Krazy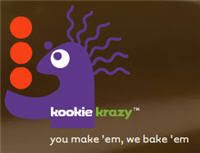 I love cookies. In fact, if I had to choose any snack in the world it would be homemade chocolate chip cookies. So when I found out about Kookie Krazy, I knew I had to check them out.
COMPANY DESCRIPTION
Mark Boos Benhard and James Kelley baked up the idea to open a franchise called Kookie Krazy where kids make their own oversized Kookies. The store provides the pre-made dough, with six flavors to choose from (sugar, plain, oatmeal, chocolate, peanut butter and espresso) from recipes provided by Kelley, an avid Kookie maker since grade school. Customers can then select from dozens for tasty bits ranging from chocolate chips to dried fruit to their favorite candy bars. A post-baking trip to the toppings bar features chocolate syrup, sprinkles and other goodies. Milkshakes, ice-cream sandwiches, Kookie cakes, gift baskets and ready-to-go Kookies are also on the menu.
MY REVIEW
I had the opportunity to review Kookie Krazy for myself and I loved it! It was so much fun to make my own cookies online and then have them delivered right to my door. Now that's the way to enjoy cookies!
First, I chose my cookie dough which was peanut butter. Then I just dragged the toppings I wanted onto my cookie. It was chocolate chips and Heath Bar bits for me. That was it! If I wanted to go back and make any changes, that was easy to do, too.
I liked that cookies arrived in a plastic bucket and individually wrapped. However, the best part was eating them. Now only were they fresh and delicious but they were also huge! I measured them to be about 4 1/2 inches across.  Now I can get my fill of cookies and be able to say that I ate just one! LOL!
So if you love cookies as much as I do, check out Kookie Krazy today! One dozen made-to-order gourmet cookies are only $19.99.
Prime Time on TNT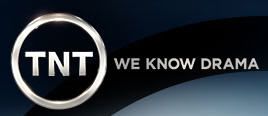 With all the new drama series emerging from TNT, they are becoming my definite go-to station for quality television programing. We recently had the opporutunity to review the pilots episode to 2 brand new series: Leverage & Dark Blue.
LEVERAGE staring Timothy Hutton, Gina Bellman, Christian Kane, Beth Riesgraf, & Aldis Hodge
Show Description: In LEVERAGE, Hutton stars as Nate Ford, a former insurance investigator determined to bring down the kind of corupt bigwigs whose neglect led to the death of his son. His highly skilled team includes Sophie Devereaux (Bellman), a grifter who uses her acting skills to corner her marks; Elliot Spencer (Kane), a "retrieval specialist" with bone-crunching fighting skills, Alec Hardison (Hodge), a gadget and technology wizard who keeps the team connected and informed; and Parker (Riesgraf), a slightly off-centered thief adept at rappelling off buildings or squeezing into tight places.
My Review: Overall, I really liked this show and the crew's pursuit of taking down the corupt, powerful, and rich. Each individual member of the team seems like a loner but together they form a highly skilled group of people looking out for the underdog. What I especially enjoyed about the show was when their plan went awry and they had to improvise to ensure a positive outcome. I liked how they had to think quickly on their feet and their antics definitely kept me on my toes.
DARK BLUE starring Dylan McDermott, Omar Hardwick, Logan Marshall-Green, & Nicki Aycox
Show Description: DARK BLUE takes place in the underbelly of Los Angeles, where criminals roam free under the veil of night or hide in the shadows of daylight. Wanding in and out of this seedy underworld is just another day at the office for Lt. Carter Shaw (McDermott) and his special undercover task force. They understand, better than anyone, that to bring down a criminal underworld one must first dive into its depth and get on the criminals' level.
My Review: I liked this show so much that I already have it programmed on my DVR. I guess I've always been a big fan of Dylan McDermott ever since The Practice and I'm thrilled to see him on prime time again even though it may take some getting used to him playing a brooding, loner cop. Warning: This show is a little more violent than most TNT shows and definitely needs to be watched after the kids go to sleep.
Dark Blue really makes you think about the tough life that undercover cops lead. At the spur of the moment, you could be called away for an indefinite amount of time leaving your loved ones behind wandering if/when they'll ever see you again.
I feel Dark Blue has the perfect ensemble of characters and I will definitely be tuning in week after week.
Piggy Paint
My daughters are true girls. They love anything pretty and feminine and that goes for their fingernails and toenails as well. So when we had the opportunity to review Piggy Paint, I knew it would be a big hit.
PRODUCT DESCRIPTION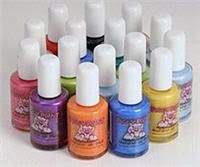 Piggy Paint™ is specially formulated from God's natural ingredients and dries to a hard, durable finish. There are no toxic chemicals; it's free of formaldehyde, toluene, phthalates, biphenyl A, ethyl acetate and acetone. Say good-bye to harsh, smelly chemicals and hello to Piggy Paint™…it's as Natural as Mud!
MY REVIEW
As soon as I opened the box, Baby Bug was begging me to paint her tiny nails. I usually hesitate because I can't stand the strong smell from regular nail polishes, especially now that I'm pregnant. So I was pleasantly surprised when I noticed that Piggy Paint is odorless! This is a great feature since I have to literally blow on her nails to get them to dry before she bolts out of the room.
We also received a bottle of Nail Polish Remover which is also odorless. Just a little did the job. I put some of the remover on a cotton ball, rubbed her nails, and the polish was gone in an instant.
The best part about Piggy Paint is that it's also non-toxic. As Moms, don't we always worry about what goes into our children's mouths? Knowing that these products are safe really gives me peace of mind. It definitely makes me more willing to doll up their nails!
So if you have a special little girl in your life that loves getting fancy, check out Piggy Paint! They come in a wide variety of colors to suit any outfit or mood. And they even offer free shipping for orders over $25. Stop by Piggy Paint today!
Next Page »