November 12, 2007
One thing I love about the holidays is greeting cards. It's so nice to receive them in the mail and display around the house.
However, every year it's the same dilemma - what kind of card to get?
There are the traditional greeting cards that come in a box of 20. You can usually get these from Wal-Mart, or if you're lucky to have one nearby, a Target. These are usually inexpensive but have some really cute pictures on the front. Very practical if you have to send out a lot, say like 200.
Then there are the photo cards which are a little more expensive but have a much more personal feel. If I go this route, I usually get mine from Costco.com. The great part about this option is that I can order them from home and have it shipped to me for free! I don't know about you but one less trip to Costco with the kids is always a welcomed thing!
Then, did you know they have greeting cards for those who work in the travel industry? Every year I want to get these but I wonder if the humor would be lost on those who can't relate?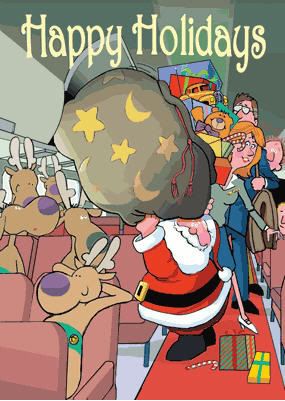 Anyway, since I'm in the process of ordering some cards for our family and friends, I was wondering if anyone out there would like to exchange Christmas cards with me this year? If so, just use the contact form above and send me your mailing address so I can put you on my list.
What kind of cards does your family send out? What do you do with the cards that your receive?