An Interview with "Nina" from The Imagination Movers
The Imagination Movers is one of my girls favorite shows. They love the comedy, the music, and most of all they love Nina. In fact, they're always fighting over who gets to pretend to be her when the show is on. That's why we were so thrilled for the opportunity to interview the person who plays Nina, local girl Wendy Calio. Wendy was born and raised on Oahu and graduated from Mililani High School.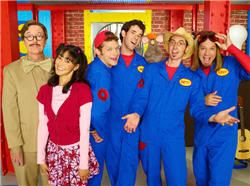 Q: Did you find it difficult for a local girl to get into acting?
A: Actually, it felt like a natural transition from dancing to acting. It's just a different way of expressing yourself. As far as the business aspect of it. I did need to shed my sweet local girl attitude and be more aggressive with my auditions. Being nice is important, but being assertive is another. So now I try to be more confident, competent and sweet.
Q: What was your first big break?
A: I've had some really great experiences, i.e.; Being an original cast member on Broadway and starring in a film directed by the awesome Adam Shankman. However, this is by far my biggest break yet:)
Q: How did you get involved with the Imagination Movers?
A: I auditioned in Los Angeles. The producers say I beat out almost 800 other hopefuls. They could be just saying that to boost my ego, but I like to believe it's true. When I found out I got the part, I had less than two weeks to pack up my apartment and move to New Orleans. At the time, it was very stressful, but looking back, it's the best thing I have ever done for myself and my family.
Q: What are the guys like off screen?
A: They're true musicians. When we're not filming, they're making up songs and coming up with melodies for upcoming episodes. Sometimes when they're in a silly mood they'll start singing songs from their favorite band, "Big Country". This will at times go on and on until the director says he's ready to shoot. Our days are long, (sometimes 14 hours a day) so around the 11th hour we get to this delirious place where everything we do and say is funny. I try to keep it professional but sometimes you can't help but to break up and just laugh. The director will usually give you a moment to gather yourself and reinvest in the scene. It's hard when everyone, including the crew is in stitches. This is probably the hardest part of my job. Keeping a straight face can be painful at times, but it's so much fun. Needless to say, we have a blast working on the show! I love it! It's like having four awesome, very talented and funny older brothers. I have two real older brothers that are very dear to me and whom I love very much, but this is different. It's pure fun!
Q: Do you get a chance to come home once in a while?
A: Yes. When my schedule allows it. I miss my family, especially my nieces and nephews. I usually get home about twice a year. My mom runs a dance program at the Mililani YMCA. I try to help out there when I can. My mom always taught me that it's important to remember where you came from and always give back to your community. I have a great support system out there. I have sort of an extended family from my years of teaching dance in Hawaii. In fact, a lot of the dancers whom I've trained, have gotten college dance scholarships and have become professional dancers and dance teachers for various studios on Oahu.
Q: What do you miss most about Hawaii?
A: My family of course. I also miss the food. I love going to Tanioka's in Waipahu and getting some Ahi Poke and Tako. So ono! And only a local girl can truly appreciate a Zip Min;) My mouth is watering just thinking about it. Lau Lau, Lomi Lomi salmon, I could go on and on. I also miss the beaches and my friends. I wasn't very athletic growing up, so I recently tried to learn how to surf…it's really hard. My friend Cheree has a great picture of me wiping out in Ewa. I was two feet from the shoreline and I didn't know how to stop the board, so I dove off head first. It was truly hilarious.
Q: What would your dream role be?
A: Comedy TV or Film – Hawaiian version of Gidget! Action TV or Film – Sailor Moon (When I was a kid, it was one of my favorite coloring books.) Theatre – Kim in Miss Saigon, Linda Low in Flower Drum Song, and Morales in Chorus Line. Although I'd be OK with playing Nina for a few more years! She's cute, fun, smart and has some pretty cool outfits. If you thought last season's clothes were cute, watch out for season 2! Nina goes retro! You're gonna love it!
We'd like to thank Wendy for taking time out of her busy schedule to be interviewed at An Island Life. For more information about The Imagination Movers or for show times in your area, check out the Playhouse Disney website.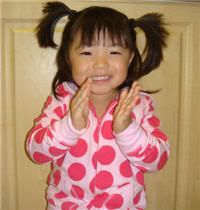 Baby Bug in her "Nina" outfit.
About the author:
Kailani is the owner and founder of An Island Life. You'll find her sharing her daily life as a mother to 3 wonderful daughters, working as a flight attendant, and living a blessed life in Hawaii.