September 21, 2007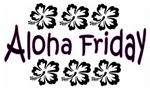 Welcome to this week's edition of Aloha Friday. Today's question is:
If you had to be one of the 7 dwarfs, which one would you be and why?
There's no question about it, I'd be Sleepy. Why? Because I haven't had a good night's sleep in the last 5 years.
I just had a thought, if you'd like to post your own version of Aloha Friday at your blog next week, let me know and maybe we could all link together. All you would need to do is write a simple post and ask a question for your readers to answer. Then we could all go around and visit each other. If there's enough interest, I'll put up a Mr. Linky next week. It would be fun to see what kind of questions you all come up with!
The following video is the song Nightbird by Mackey Feary of Kalapana. If you were on the islands in the 80's, you will definitely remember this song.