April 4, 2008
Welcome to this week's edition of Aloha Friday.
In Hawaii, Aloha Friday is the day that we take it easy and look forward to the weekend. So I thought that on Fridays I would take it easy on posting, too. Therefore, I'll ask a simple question for you to answer. Nothing heavy or too thought-provoking.
If you'd like to participate, just post your own question on your blog and leave your link below. Don't forget to visit the other participants! It's a great way to make new bloggy friends!
Today's question is:
Are there any cultural events that your State/Country is known for?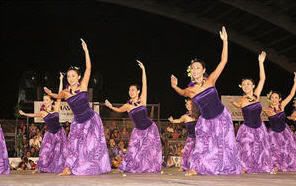 The reason I ask is that yesterday was the start of The Merrie Monarch Festival in Hilo, Hawaii. This popular hula competition has been entertaining locals and visitors from all over the world for the last 40 years. The week-long festival includes art exhibits, craft fairs, demonstrations, performances, a parade that emphasizes the cultures of Hawaii, and a three-day hula competition that has received worldwide recognition for its historic and cultural significance.