March 17, 2008
Written by Guest Blogger, Grace of Sandier Pastures & The Parenting Diaries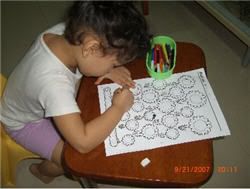 Kids love to color. The one thing that got me excited in grade school was my crayola set. I clung to it like a precious diamond. I had several coloring books and spent most of my weekends working on it page after page. But I am no Picasso and mom would tell me over and over to color within the lines, stop blending red and white to produce pink as there is a pink crayola stick already and that roses are red and not blue!
My daughter has inherited my love for coloring and crayolas but if you see her work, you'd probably question why her mom allowed that kind of coloring style. It's not that bad (she is just 4!) but it is unique and certainly non-standard in the adult world. Children see the world in fresh, new eyes and use what they see in their own ways.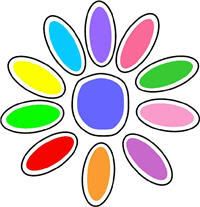 Instead of demanding the picture perfect artwork, I give her the opportunity to use her imagination and express her creativity on her own rather than telling her to color within the borders or use a specific color for this and that. I believe that children are naturally creative and right now, I'd like to encourage creativity than neatness or finished product.
My little artist colors daisy petals with different colors each but I am perfectly ok with it. It's how she sees it — who knows, horticulturists might come up with daisies with multi-colored petals in the future?