Wow! Wow! Wubbzy!
This giveaway is now closed. Thank you for your participation.
The winner is comment #
Congratulations!
Baby Bug is a big fan of Wow! Wow! Wubbzy! and I have to admit that it is one of the better kids shows around. Now the gang from Wuzzleburg returns with 2 brand new DVDs for the whole family to enjoy.
SHOW DESCRIPTION
Wubbzy is a fun, lovable, cruious little guy who just likes to play, play, play with his friends in the wild and wacky town of Wuzzleburg. He's charmed both children and parents, become an internet phenomenon, inspired an array of licensed products and joined with brands like Taco Bell and Joy Cone Ice Cream Cones in new cross-promotional deals. Now, kids can watch Wubbzy and his pals in the Emmy Award winning series tht provides essential, wholesome life lessons while keeping the kids laughing.
Pirate Treasure: Set sail for adventure as Wubbzy and his friends discover a whole new world of fun in this collection of wild escapades and silly songs from the Nick Jr/Noggin animated sensation. Tag along with Wubbzy, Widget and Walden as they search to find buried pirate treasure. Find out what happens when Wubbzy gets lost in the woods and why Walden is afraid of the beach. Take a trip with the gang to the nearby town of Plaidsville! Get ready for hours of singing, dancing, laughing and in this Emmy award winning series that puts the Wow! Wow! back into preschool entertainment.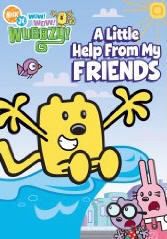 A Little Help From My Friends: Join Wubbzy, Widget and Walden in Wuzzleburg in this fun, fun, fun collection of 8 episodes! Friendship takes center stage as Wubbzy and his pals search for a lost Wiggle Wrench, escape a runaway Doodleberry Cake, build a Super Robot, teach Walden to boogie and work hard for Wuzzleburg trophies. Together they discover the importance of positive values like confidence, cooperation, team work and above all , the meaning of friendship. There's hours of singing, dancing, laughing and learning in this Emmy award winning series that will have preschool kids and parents alike saying WOW!
MY REVIEW
We had the opportunity to watch both DVDs and found them to be classic Wubbzy cartoons. We noticed that the hilarious adventures that these three friends go on and the mishaps that occur along the way all serve a purpose, to teach children valualbe life lessons. We found that each episode shared a different message like being a good friend, helping others, sacrifice, being who you are, and appreciating the simple things in life.
However, for me the best part were the orignial songs that followed each episode. These catchy tunes reinforced the positive messages being taught and also made learning them fun for everyone. My girls loved singing and dancing to them around the living room.
WIN IT!
I have a copy of the screener version of Wow! Wow! Wubbzy! A Little Help From My Friends DVD to give away to one lucky winner. To enter:
Just mention in comments before midnight, Feb 1st who your favorite Wuzzleburg friend is. That's it!
A random winner will be selected and notified via email on Feb 2nd.
The winner will then have 3 days to claim their prize.
To earn extra entries, you may do one or all of the following. Each one counts as an extra ticket but you must leave a separate comment for each one.
Subscribe to my feed.
Mention this giveaway on your blog with a link back here.
Place my button in your sidebar.
This giveaway is open to everyone world-wide. Good luck!

Owner of An Island Life and Family Review Network. Wife, mother, and flight attendant . . . living a blessed life in Hawaii.