Webkinz Jr. Giveaway
I've heard about Webkinz before but haven't really had the chance to check them out. However, we recently had the opportunity to review their new site Webkinz Jr. as well as a couple of their furry friends.
SITE DESCRIPTION
Webkinz Jr. is a brand new educational website for kids 3 to 6. This safe learning environment encourages toddlers to set their imaginations free. We are pleased to announce that we have just been honored with the Best Bet Award for 2010 from the Canadian Toy Testing Council (CTTC) – the leading authority on toys in Canada.
OUR REVIEW
We received Orange Kitty and my girls fell in love instantly. Orange Kitty is so adorable, soft, and cuddly. In fact, she looks like our very own orange kitty, Kaimana.
Each plush animal comes with a special pet code that you can use to enhance your child's experience on the Webkinz Jr website. Registration was quick and easy. In just a few minutes I had Kiana all set up and ready to go. I was a little concerned since Kiana has not had too much exposure to using a computer but she had a blast.
The great thing about this site is that the narrator speaks very slowly and uses simple words and instructions. Some of the instructions are also shown in words so that Kiana can follow along visually. I think this is a great way to reinforce the love for reading.
Basically, there's a map of different places your pet can visit: Bakery, School, Playhouse, Park, Shop, Caring Center, Post Office, and Home. Just click on which place you'd like to visit and off you go.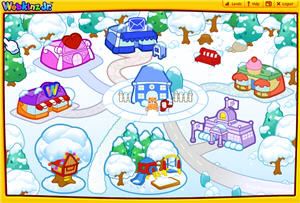 Kiana's favorite place was the school. Here she was able to participate in various activites like math, science, art, building, music, sharing, etc. And if she couldn't decide where to go, the narrator would make a suggestion.
I liked the bakery. It was so much fun to make various cakes that people in town wanted to order. This was a great way for Kiana to learn how to listen and follow directions. People would place orders and you need to make their cakes according to specifications. Plus, all the colors and decorations are so pretty!
When you look at the bottom of each screen, you'll see something like a status bar. This will tell you what your pet needs more of: food, sleep, love, and happiness. If you want a content pet, you need to make sure that all their needs are met. This was the difficult part for me. Kiana didn't really care too much about meeting all of Orange Kitty's needs but I did. I would feel bad if it showed that she was hungry or tired even though I know it's all virtual. So when Kiana was in school, I would check in on Orange Kitty and make sure she was okay. I think I had just as much fun as my kids did playing with Webkinz Jr!
WIN IT!
I have a Webkinz Reindeer to give away to one lucky winner! To enter:
Just stop by Webkinz Jr before midnight,  Jan 24th and check out their pets.
Then come back and mention which one is your favorite. That's it!
A random winner will be selected and notified via email shortly thereafter.
The winner will then have 2 days to claim their prize.
To earn extra entries, you may do one or all of the following. Each one counts as an extra ticket but you must leave a separate comment for each one.
Subscribe to An Island Life's feed.
Follow Island Life on Twitter.
Tweet this giveaway (can be done once daily)
Become a Facebook Fan.
Place our button in your sidebar.
Mention this giveaway on your blog with a link back here and to Webkinz Jr.
This giveaway is open to everyone world-wide. Good luck!
This post was written for Webkinz Jr who provided the item for review and giveaway. I was not compensated in any way except for the complimentary product. By entering this giveaway, you are acknowledging that you have read, understood, and agree to our disclosure policy
About the author:
Owner and founder of An Island Life. Sharing my life as a mother to 3 wonderful daughters, working as a flight attendant, and living a blessed life in Hawaii.